Well, it would appear I am on a baking kick lately. And this time, appearances would not be far from the truth. James started school last week and that gives me a couple of nights a week to myself. Saturday happened to be one such night where I found myself co-existing in the same room as my husband and yet completely alone. I explored my options and decided to watch a chick-flick while I knit on my sampler afghan. I browsed the selections and found Julie and Julia.
I don't feel the need to dive into all the controversy regarding this movie. All I will say is that I have been inspired. That's what matters, right? Julia Child fostered a love for cooking and shared that joy with us. The movie inspired me to do just that. Love cooking (or baking, in this instance).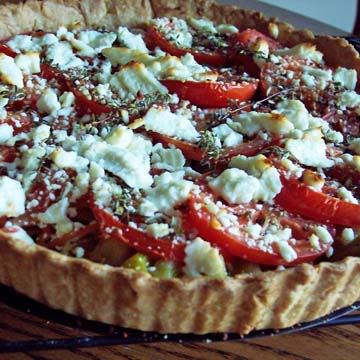 So, last night I baked a tart. Normally, I would classify tart as dessert, but the picture of this Tomato, Leek and Goat Cheese tart in my cookbook tempted me to try something new. I have never baked a "healthy" tart before and so last night I timorously took the plunge.
I have to be honest here and say that I did not love it. I tried to. I even cut myself a second piece. I just couldn't love it. Why? Sour. It just tasted sour to me. I have a bit of a sweet tooth and there was absolutely nothing sweet about this tart. Would I try it again? Probably not unless I substituted cherries for the leeks and tomatoes and sprinkled powdered sugar instead of feta cheese on top.
While the tart left me feeling somewhat dissatisfied, I quickly replaced that feeling with elation by finishing square 19. Yes. It's done. That means I have one square left on my sampler afghan. ONE SQUARE LEFT!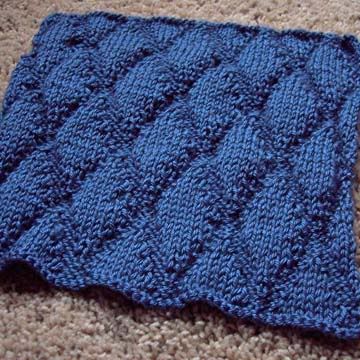 I was awake half the night last night nursing a sick child. I am tired today. And to top it all off, I woke up to the sound of thunder. Sigh. This would not normally cause much alarm, but...well...you see...I put a meringue in the oven last night to dry out. Needless to say, with all the humidity in the air brought by the thunderstorm, my meringue did not dry out. I touched it this morning and a tacky, sticky residue adhered itself to my finger. So, because I feel drained off all energy and slightly saddened by my viscous meringue, I will post a photo of one of my roses in my garden. I took this picture yesterday while my skies were blue and my daughter did not have a fever. Enjoy.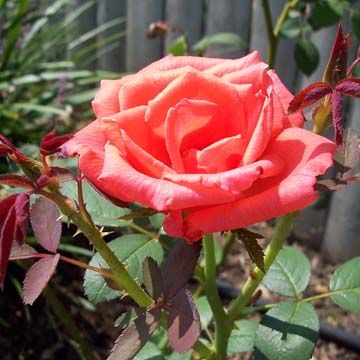 P.S. That meringue is still going to
taste
good. It has sugar in it.