Greetings and Salutations, my friends! And what a morning it has turned out to be so far.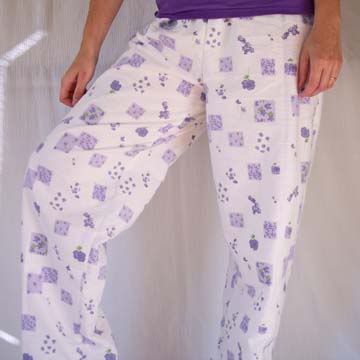 You know it's going to be one of
those
days when you find yourself pouring French Vanilla Coffee Creamer into your child's cereal and you think, "How did I get here? I thought I was still in bed." Yup. It's definitely going to one of those days. (at least she liked it, right? Should I not have fed it to her??? If I can drink it in my coffee, will it hurt her to eat it in her frosted flakes? It's not like I was being mindful of her sugar intake this morning anyways. She
was
eating
Frosted Flakes
, after all.)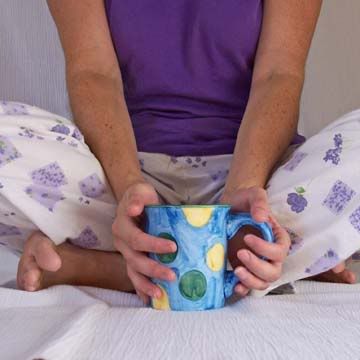 I just had to make myself more pajama pants. They are so stinking comfy. Never mind how quick they are to whip up. Less than an hour, I tell you. Anyone could make these things.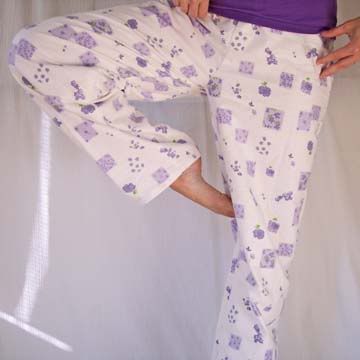 I think next time I will make the small size. These are medium and I have
plenty
of room to strike ballet poses and whatever else I dream possible in pajama pants. Again, I used
McCalls 3019
. (sorry, it's out of print. They really are super simple to make.)
So, do you recall the other day I mentioned
creating a happy skirt
for myself during my "dark night"? Well, first I tried creating a happy dress. I put together the bodice and went to sew the skirt on and lo and behold I was missing the back half of the skirt.
YIKES!
Not good on a dark night such as I was experiencing. I put the happy dress aside and made the
happy skirt
instead. The next day I ran to the store and after some panicked searching was able find a yard of the fabric left on the bolt. I immediately ordered 3/4 yards of it and promptly finished the dress yesterday.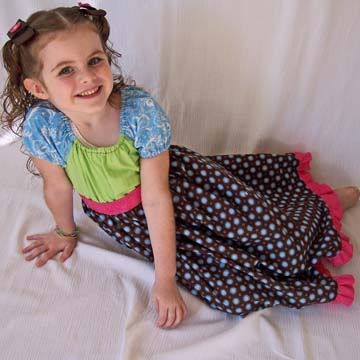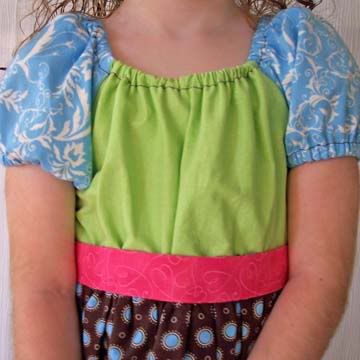 Looking back, I wish I hadn't used brown thread for the top of the bodice. It takes away from the overall professional appearance of the dress. Chloe loves the dress regardless of the visible brown thread.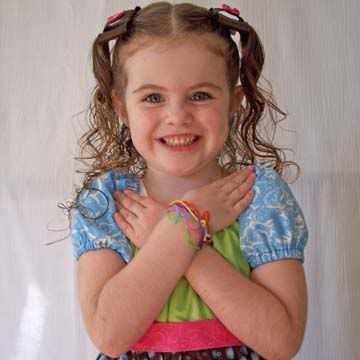 This is another McCall's pattern.
M6062
. I am loving McCalls lately. They have come out with some adorable patterns in the past couple of years. Either that, or I just happen to always catch them on sale for 99 cents at JoAnns. Either way, this dress is adorable. And incredibly easy. I skipped the underskirt though and just attached the ruffle to the bottom of the dress. Saved fabric (which I would have needed to make a third run to JoAnns and I didn't want to) and time.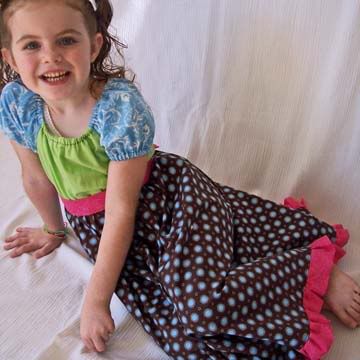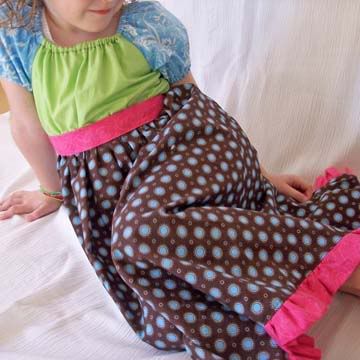 I don't know what I was thinking when I purchased this fabric. I picked out a pattern (during that 99 cents sale) and bought this fabric to make the dress. I got to looking at it yesterday and realized it would look absolutely revolting next to my face.
What was I thinking?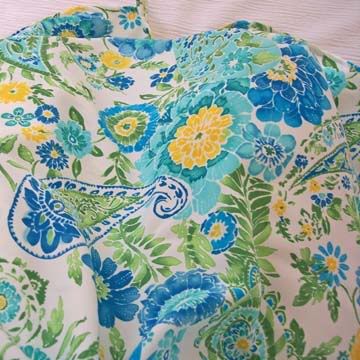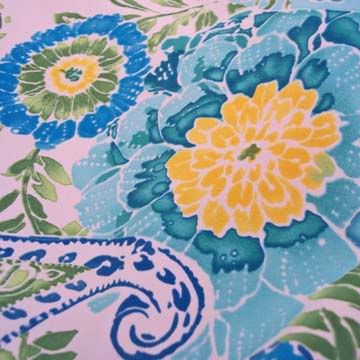 I knew I would not be happy with it if I went ahead with plan A so I quickly thought of a plan B. I liked the fabric well enough. I wanted to use it. Just not up against my face. So...plan B? A skirt! And not just any skirt but the one claiming to be a "1 Hour Skirt".
McCall's 5430
.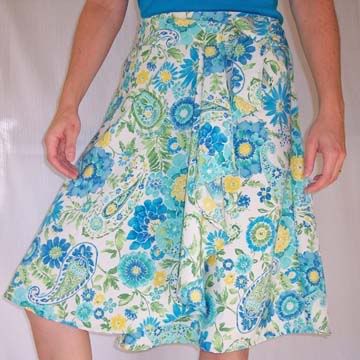 Let me tell you...any pattern with 7 pieces to cut, interfacing, buttonholes and the like IS going to take you MUCH longer than 1 hour to complete. Now, I am not the most advanced seamstress in the world, but I am no beginner either. It took me almost an hour just to cut out the skirt. 7 pieces, 3 of which need cut multiple times, just takes time to cut out. But the skirt turned out cute, regardless of the length of time it took to make.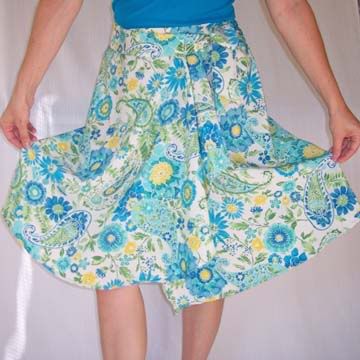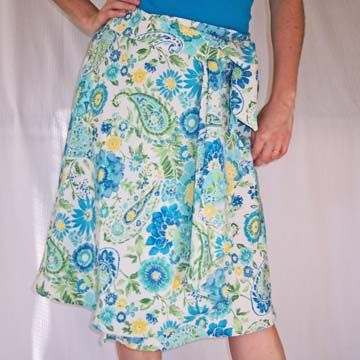 I am off now to visit the coffeepot for some much needed caffine. I can't very well spread coffee creamer on a peanut butter and jelly sandwich or they might commit me. I need coffee! I also need to clean. I can only go a day or two without cleaning or I start to go crazy. Jittery crazy. Yea. It's weird. I know. But such is life in my household. (Don't you feel sorry for my husband who must put up with me and not have me commited? He loves me...what can I say.) Have a fantastic Friday, all day long. I think I hear some Buttermilk Bread with Sour Cherry Jam calling my name.