I have recently found myself intrigued by this plate stacking art form. I love it. I find myself wondering, just how many plates can a person stack in one tablescape? This week I tried 4.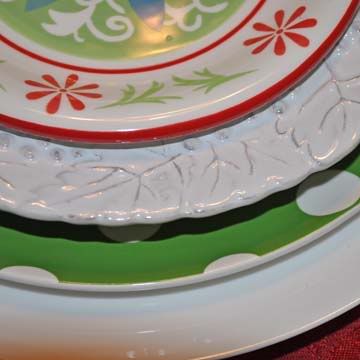 I purchased a few of these plates with other holidays in mind. I don't have room in my home to store an abundance of plates so they need to serve multiple purposes. (The smaller white plate has raised acorns and leaves for autumn, the green with white polka dots would looks darling with pink for Easter and the white base plate has embossed daisies growing up the side which could serve many seasons.)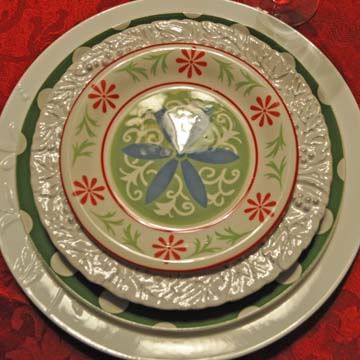 Now I just need to finish the rest of the tablescape. No rush though as we will not be eating Christmas dinner around this table. We are headed to a cabin for four days with some good friends to spend a relaxing and cozy weekend together. My goal is to finish this before I leave though. I would like to fill these jars with greenery and little, red Christmas bulb ornaments.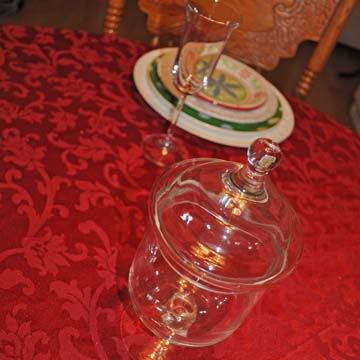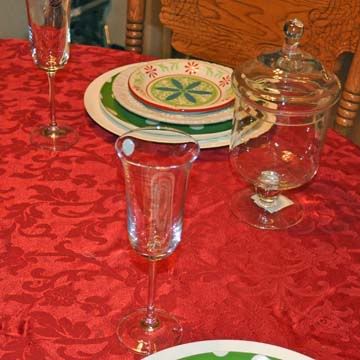 I wish I had thought ahead and planned a little tea party for some girlfriends so I could serve them on these delightful plates. Oh well. Maybe I can do a winter themed tablescape in January and have a little tea party. The ideas are churning inside my head.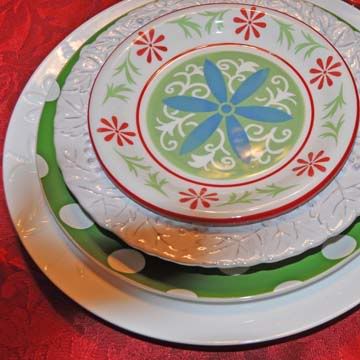 Chloe and I did some baking yesterday. I must photograph the delicious things we made to show you all. I also photographed the two fall dresses I made her that I am dying to show you all too. I will be back soon. Right now, I have a sick little angel in desperate need of some cuddles. Poor dear. I am going to have to do the holiday baking today by myself while she watches from the couch.