Inspired by a
friend's blog
I scoured the internet to find some easy ornaments that Chloe and I could forge this year. Yesterday afternoon we found some free time (which is getting to be quite unusual around this house these days) so we sat down to fashion these delectable ornaments.
First I instructed Chloe to make these
simple wreaths
using peppermint stars. I desired a red and white theme for the living room this year but Chloe immediately saw the green M&M's and said she wanted hers to be different. I obliged.
After a couple of wreaths, Chloe informed me that "circles are boring" and she wanted to make something else. After trying to convince her that I needed a tree full of wreaths, I finally allowed her to use her creativity and fashion whatever she desired. Lo and behold, her creativity trumped mine. This little girl is something else. While I happily sat hot-gluing my boring, old "circles", Chloe fashioned these works of art.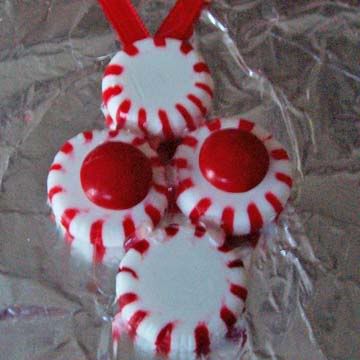 Wow! She's good! Now we have about 20 wreaths and 5 or so adorable ornaments which Chloe informed me will be going into her own ornament box. (She owns a shoebox which her ornaments are stored for when she leaves home. I add a new ornament every year which she receives in her stocking on Christmas morning.)
We both felt the boredom levels rising with the peppermint wreaths after a while so I put away the candy to make these ribbon candy ornaments.
I wish I had my new Nikon D5000 but alas, it has not arrived yet. Maybe later this week. I am sorry for the poor quality of these pictures, but at least you can see the ornaments. We had fun making these. (
instructions here
) I have a list of other ornaments to try too. This was all we were able to accomplish yesterday though.
Well, I must be off. We are headed to help the Marines Toys for Tots today at a local warehouse. I am unsure of what we will be doing exactly but we are excited to help in any way we can. Have a fantastic day. I will chat at you again later.