I love this time of year!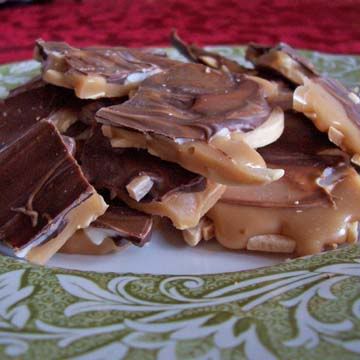 I dream of sugar plums.
Well, not really. (All you long time readers may recall my
sugar plum adventure
a couple of years ago...not quite what the poem depicts.)
But I do dream of the sugar portion of "sugar plums".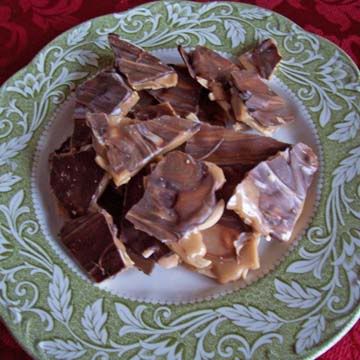 While every year we make a few "must-haves" for consumption, I do enjoy trying a couple of new recipes out each holiday season. Just to see what's out there. Well, this year I printed off a few recipes from
All Recipes
and simply
had
to whip up these
Marbled Almond Roca
pieces. Soooooo delicious! Sooooo easy to eat...the entire batch. Goodness gracious. I made them yesterday and will have to make more tomorrow for I fear they will be long gone by morning.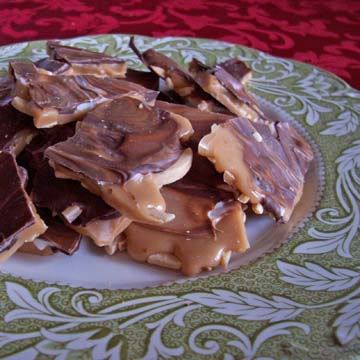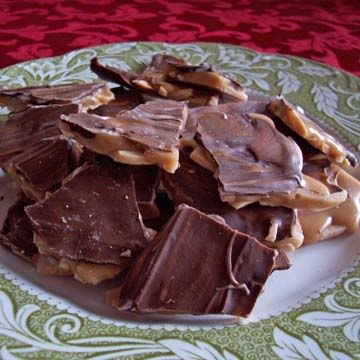 For the record, I baked up our fourth batch (of this season) of pumpkin cookies yesterday as well. Yes, I said
fourth batch
.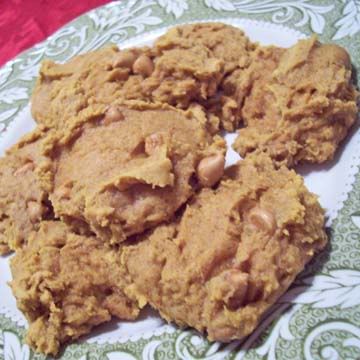 James pretty much devours these before I can get them out of the oven and onto the cooling racks. *sigh* I only bake them during the holiday season between Thanksgiving and Christmas, so I do tend to bake multiple batches to satisfy my husband's cravings. I suspect, however, we will have a new record for the books this year with number of batches made in one holiday season.
My dear sister sent me an early Christmas present this year. She informed me that I should open it as soon as it arrived in the mail. I surmised by this bit of information that the item would be necessary for my Christmas celebrations and immediately opened it upon arrival.
Lo and behold...an ice cream maker attachment for my kitchen aid.
What? It's the middle of winter (or the end of fall, depending on how you look at it) and I needed to open this before Christmas? Oh...but you see...my sister knows me. And she knows my affinity for ice cream (or anything involving sugar, for that matter) and so she simply allowed me the pleasure of churning my ice cream a couple of weeks early.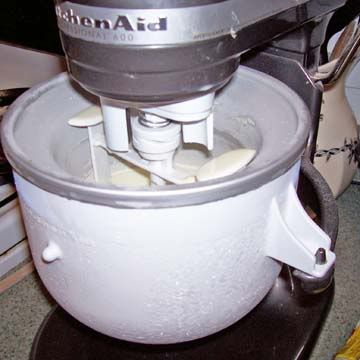 First up? Mint Chocolate Chip, of course. It is
MY
machine after all. Today I will make up some Peanut Butter with Crunched Peanut Butter Cups for my dear husband.
I just have to say...this attachment is the best thing since sliced bread. Really. I love it. So quick and effortless. No rock salt. No ice. Simply put the canister in the freezer, make the custard and 15 hours later, attach everything to the kitchen aid and whirl away for 15-20 minutes until done.
Perfection!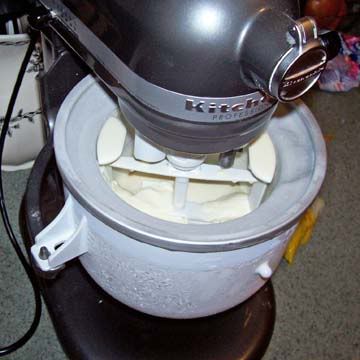 Thank you Sarah for the wonderful gift. You know we will get plenty of use out of this thing.
So, in other news, I am sitting here anxiously awaiting a special delivery. The tracking website says my new camera is "out for delivery". That means at some point this afternoon it should arrive on my front stoop. And you know what that means, don't you????
PICTURES!!!
Thousands of pictures!!! I have been waiting to show you Chloe's fall dresses just so I could photograph them with my new camera. So...today is the day. Yes, today! I can hardly wait. While I sit here and wait, I have the scent of spiced cider wafting through the house. Crockpot style. Yum! More on that after I receive (and charge) my new camera though. Ahhhhh....it feels like Christmas.