I have decided to go forward with my 365 Days of Creativity project. I debated my medium over and over. I read all your comments. I just couldn't chose any one medium. So, I have decided my best choice for my first year would be the random choice. I will do random projects every day and see where it takes me. This way I can include children's art, photography and anything else my heart fancies. This might be the surest way to prevent burnout as well.
So, my first creative endeavor this week was to photograph my new coffee maker which James bought me as a stocking stuffer. Needless to say, this thing did not fit in my stocking and I have no idea what possessed my dear husband to purchase such a thing, but I do love it and am so glad he bought it. For my creative attempt at photography, I tried to photograph it while the water was streaming out. I didn't do such a good job, but it was fun trying. I need to read up on my camera a bit more this weekend.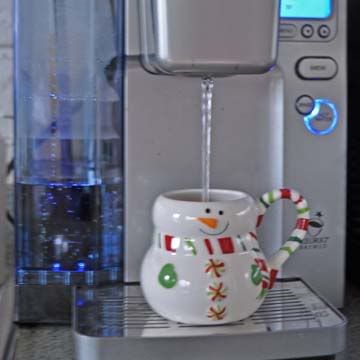 This was my project for Monday. I am going to try to catch up on this weeks postings all in one day, so I am warning you now. You may see another four or five postings today for this past week.