Monday I wanted to add something extra special to Chloe's Valentine skirt. I started this skirt on a mission. I followed the mission guidelines all the way to the end and now Chloe has the most unique skirt I have ever made. Monday I crocheted a little heart to hide in between the skirt layers so only Chloe knows it's there. (And now the entire internet world as well.
Funny how that works
.) Day 15.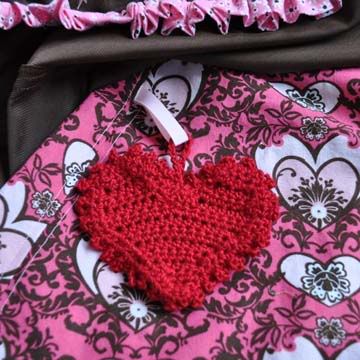 Anyways, to add the crocheted heart, I sewed a loop of ribbon into one of the seams on the underskirt. As I crocheted the last round on the heart, I added a loop and attached it through the ribbon loop on the skirt. I told Chloe that this heart is hidden and only she knows it's there (she doesn't need to know that you all saw it, now does she?) and that it will always remind her of my love for her. My love was sewn into this skirt, just for her. Awwww....how precious! No, but really. She LOVED it. She even said as much when she said, "Awwwww. I love it!"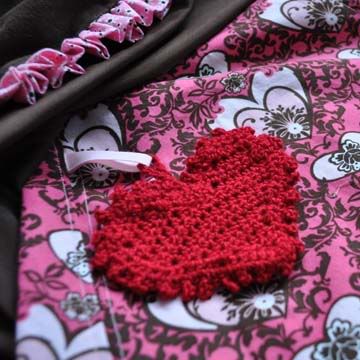 I used this
sachet pattern
for my heart, substituting Red Heart Lustersheen for the worsted weight variety. I didn't want my heart to appear prodigious against the skirt so I figured the smaller yarn would achieve the look I desired. Of course, I didn't make the entire sachet. I simply made one side and added the picot edging around that. Super simple project.
But I didn't finish the skirt at that point. I needed to tuck in a couple of extra hidden embellishments for Chloe to find later. This idea came also from the book
Sewing Clothes Kids Love
. The author is the queen of embellishing. She mentioned hiding things in the clothes that the kids find as they are getting dressed one morning.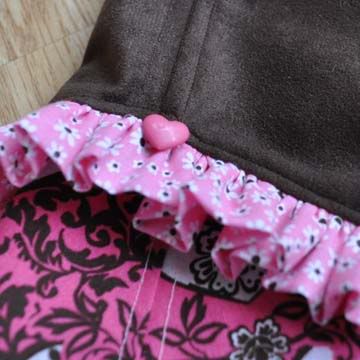 This tiny heart button can be found on the ruffle of the overskirt. The easiest of the two hidden embellishments to find.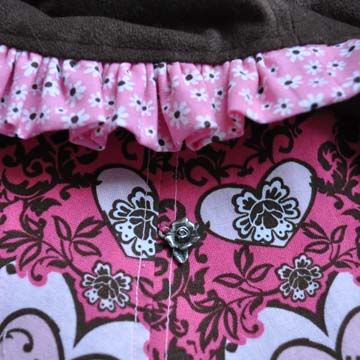 Tucked up about an inch under the overskirt you will find this sweet little pewter rose charm dangling on the seam of the underskirt.
I felt so creative planning and sewing this skirt. I actually sketched up a schematic for it with all the embellishments added before I purchased the fabric. It took me a few days to get it all together, but boy was it worth the wait. Now I just need to get a picture of Chloe wearing the skirt. But wait...there is more...but that would be Day 17 and I haven't shown you Day 16 yet...so you must wait. Let's just say, I completed the ensemble so she now has something cute to wear on top as well.