Tuesday night (late night) I jumped right back into sewing so I could make this Imke knit shirt from
Sewing Clothes Kids Love
.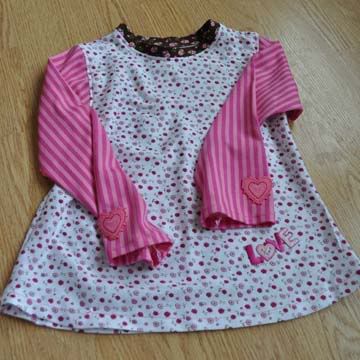 The pink floral fabric has been hanging in my sewing room closet for who knows how long. I don't remember purchasing it...ever. I have no idea why I bought it or if I bought it or what the intention for it was. And there is quite a bit of it. Well, I decided it would be the perfect compliment to the Valentine skirt I made for Chloe. I just needed to buy some knits to add to it. Brown floral print for the collar.
And pink stripes for the sleeves.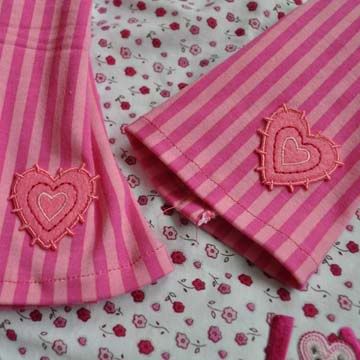 Add a few appliques and voila...a cute knit shirt for Chloe.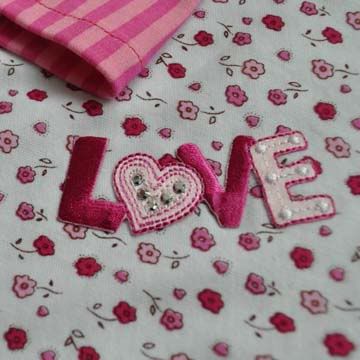 Chloe awoke Wednesday morning and headed out of the bedroom and gasped, "Ohhh! Is this for me, Mama?" She immediately wanted to put it on. A few moments later I heard loud cries and copious amounts of tears. The shirt would not fit over her head and her little heart was crushed. Here I made her such a wonderful shirt and she would never be able to wear it. Poor dear.
After reassuring her multiple times that I could indeed whip her up another shirt that would fit, her tears subsided and she perked up to say, "Oh. I can give this to Audrey. It will fit her." Oh my dear little Chloe. Always so thoughtful and generous. So, yes, we will give the shirt to her friend Audrey and Chloe will wear this one. Day 17.
This time, to aid in getting rid of her bitter disappointment, I gave Chloe the option of switching around the fabrics for the shirt. Chloe liked the stripes for the bodice and the flowers for the sleeves. I liked her decision as well.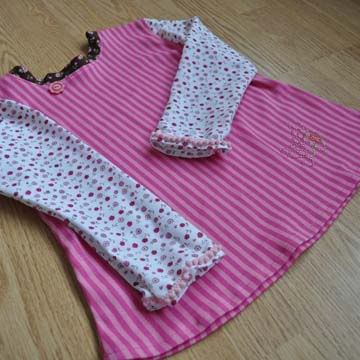 Now I already permanently attached the appliques to the first Imke shirt I made, so what should I do now? I needed to make this shirt special,right? Well, I found some pink trim with little puff bobbles on it that I hand-sewed to the sleeve edges.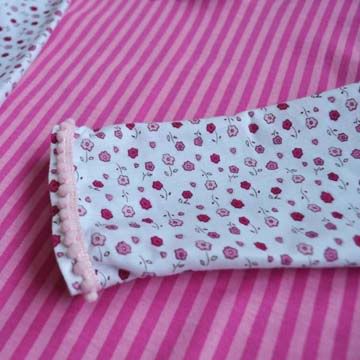 A pink flower button next to the collar...
...and a sweet iron-on transfer completes the shirt.
This pattern is simply superb. You can do anything with it. I made the long sleeved knit shirt with it. There are options for a hood, panels under the arms for a wider shirt, flared sleeves, ruffled cap sleeves, short sleeves like a t-shirt...the sky is the limit with this pattern. You could totally transform this ultra girly shirt into a macho boy hoodie in a matter of a few hours. Can you tell that I love this pattern book? I absolutely love it. Be prepared for more to come soon from Sewing Clothes Kids Love.
(P.S. Chloe loves her new shirt and is, in fact, wearing it outside this very minute while she plays in the snow with Daddy. I now must be off to get dressed and join them, for otherwise we will have no photographs of our first major snowfall of the year. We can't let that happen now, can we?)