Thursday I started crocheting some of the sweetest little thread hearts to embellish a Valentine skirt for Chloe. I crocheted a couple on Thursday and then one on Friday and one on Saturday. Sunday was spent sewing the skirt together. First I will show you the hearts. Days 11, 12 and 13.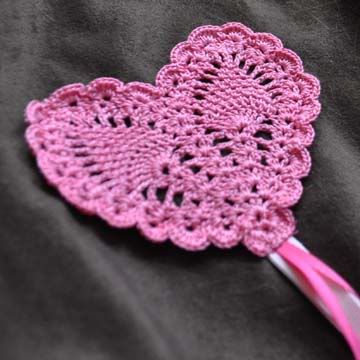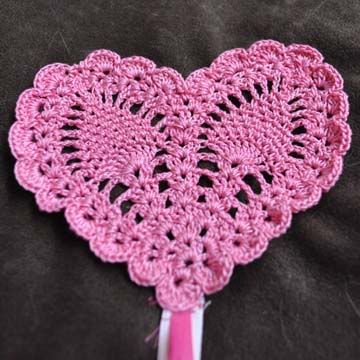 I saw
this heart
on a
friend's blog
but after searching around, I found out that she got the pattern from an old workbasket magazine. Well, I looked closely at her picture she had posted and decided I could wing it and get something similar. I was quite pleased with how well my hearts turned out. I am sorry that I don't have a pattern to share with you all.
So, I needed four hearts for the four gores on this skirt. Day 14.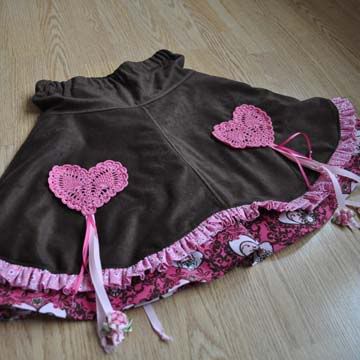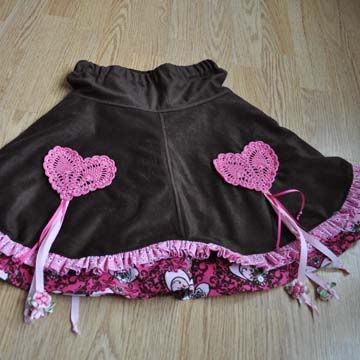 Details, details, details. I know that's what you all want. Am I right? Okay. I asked for a book for Christmas (okay...I asked for quite a few books, but that's beside the point) and I didn't receive it. (I did receive some others that I wanted just as bad though for which I am exceedingly grateful, by the way.) Well, I went ahead and ordered it from Amazon.
Sewing Clothes Kids Love
. I fell in love with the picture on the front and desperately wanted to make it. But when I received this book in the mail, this skirt called out to me from the page and said, "Oh Anna! You simply MUST make me for Chloe! She's going to
love
me." How could I resist a talking book?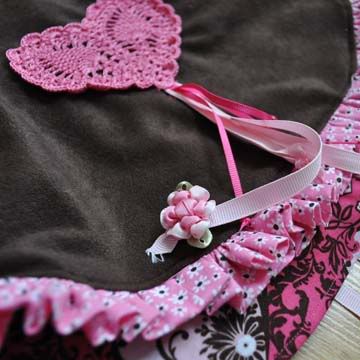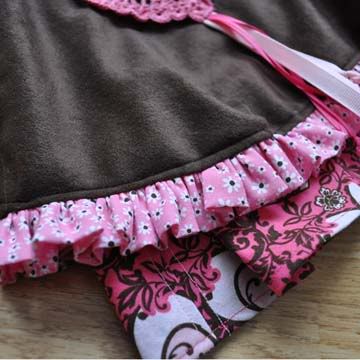 I love two things about this book more than anything else. First, the attention to detail. And she actually tells me how to pay that attention to detail. I love it. From the double top-stitching to take the skirt from homemade to handmade with a professional quality to the simple tips and techniques she sprinkles throughout the book. The second thing I love most are the embellishments. This book is all about the trims, appliques, ruffles and embellishments. Those are the things that add charm to the patterns. The skirt, in and of itself, would be quite a plain skirt. I added a ruffle to the overskirt layer and attached the four crocheted hearts to each gore. I added lengths of ribbon hanging from the hearts, some of which have beads or ribbon roses dangling off them. Chloe will have so much fun twirling around in this skirt.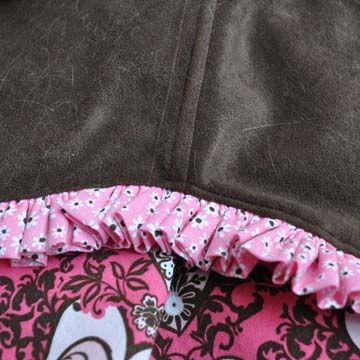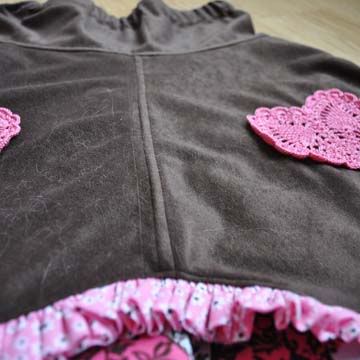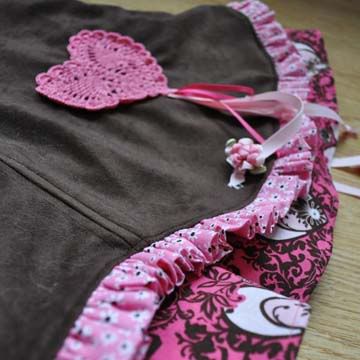 This skirt was exhilarating to put together. I don't know when the last time I had this much fun creating anything was, other than cakes...but you all know me and my affinity towards cake. To say I had a blast would be an understatement. And I learned some new techniques in the process. I have something else to show you regarding this skirt, but that will have to wait for another day and another post. Right now I hear the family downstairs playing Mario Bro on the WII and I feel as though I am missing out on a good time. I would rather be there than here so I shall go there and catch you all later. Have an uplifting evening and enjoy life. Do something that makes you smile tonight.