Instead of bombarding you with 4-5 posts today, I thought I would play catch up on my creative bursts from this weekend in one, single post. (I really do need to get better about posting every day.)
First up is Friday's creative endeavor. I sewed a dress for myself. Okay...I think I need to be completely honest here. I started the dress a few months ago. Probably September/October time frame...maybe even before, but I only got the bodice finished. I looked through my craft closet Friday for inspiration for my creativity challenge but that dress just seemed to call for me to finish it. So, I did. Here is Day 5 of 365.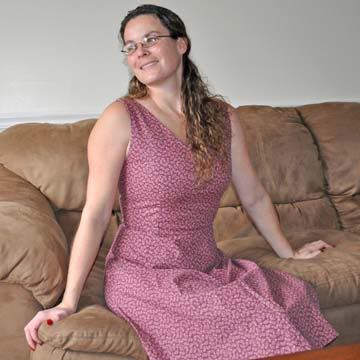 I used
Butterick 4443
for this dress. I was planning on making the little sleeves and even had them cut out, but I did not like the way they inserted them in between the lining and bodice after it was sewn together, so I left them off for a sleeveless summer dress.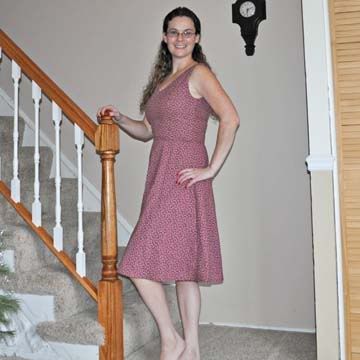 I love the fit of this dress and the style is perfect for my body type. I think I will need to make a couple more for spring. That is...if I find the time. Saturday I made a hair clip for a dress I wanted to make Chloe Sunday. Here is the hair clip first. Day 6 of 365.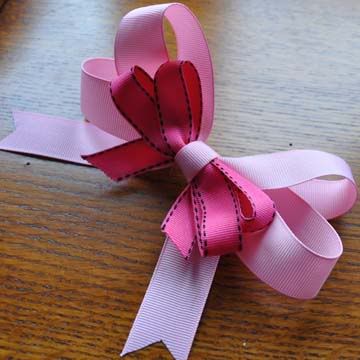 I absolutely love making these hair clips. They really are super easy too. I found the e-book on
Sweet Baby Bowtique
last year and just had to have it. These hair bows are the perfect project when you have only a few minutes of available time. I have even whipped one together minutes before we needed to head out the door to a function, just because I wanted Chloe to have a hair bow that matched her ensemble. Oh, yes...they are that easy.
Sunday is our day of rest. My family does not normally plan any activities on Sunday. We attend church in the morning and then spend the rest of the day lounging around, doing restful things. I don't clean on Sundays. I don't get on the internet, much. We sometimes play board games or watch a football game with James or something. Well, James was called in this past Sunday for work so I was left on my own with Chloe. Perfect time to whip up this set. Day 7 of 365.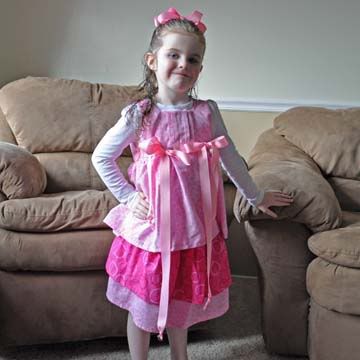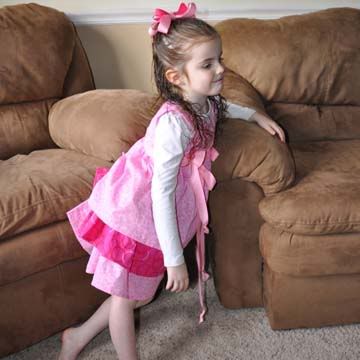 You may recognize this ensemble as the one I made for
fall
. I adore these patterns. They are so easy and quick. You can't get much cuter in such a short amount of time than this. I won these patterns from
The Handmade Dress
last fall and I am so glad I did. I love them.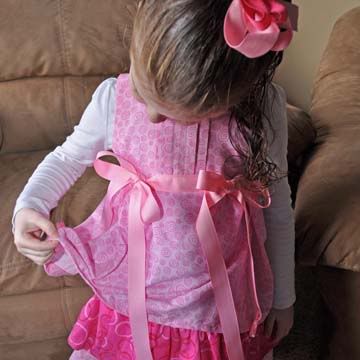 Honestly though, I like this outfit in pink so much more than I do in the fall colors I picked last time I made it. Pink suits Chloe to a T.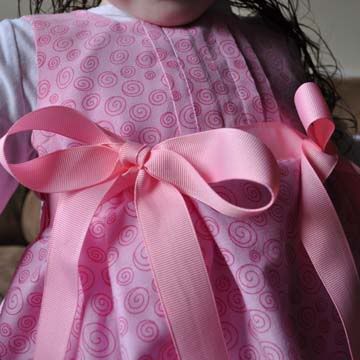 I needed a quick project yesterday since my day was jammed pack full of activities. I stopped my my lys for some yarn to make this hat. Day 7 of 365.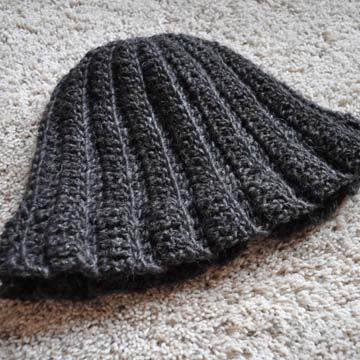 James bought me
Crochet That Fits
by
Mary Jane Hall
for Christmas. Yahoo! I gasped when I saw it. (not quite as much as when I opened the Addi Turbo Clicks that he also gifted me with, but it was a gasp just the same.) I've been wanting this book for some time now and am so excited to be starting some of the projects in it.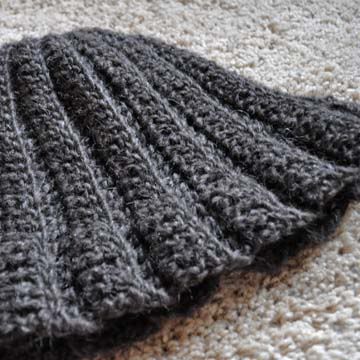 So this hat is the
Flared Tweed Hat
from that book. I used Lopi wool for it in charcoal gray. I am going to need to take two rows out though as the hat is a bit large on me. I can't wait to wear it though. I've been needing some new winter hats and this is perfect. Now all I need are the
matching mittens
and a scarf to coordinate.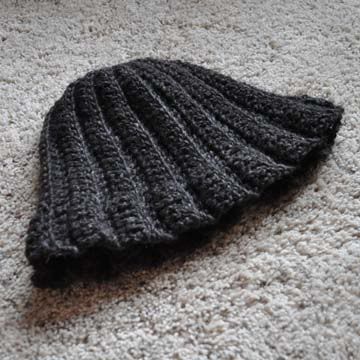 Now I must be off to see what creative item I can come up with for today. Hmmm...should I get started on some thank you cards for Christmas gifts? or crochet a flower for that hat? It has to be quick since I am off to a basketball game tonight. James joined a team and would like me to root him on tonight. How I wish I had time to crochet
this dress
tonight. I started it yesterday but there is no way on earth I can get it done tonight. Sigh. Oh well. Someday soon, I hope.