Have you seen Toy Story 3 yet? Oh my goodness. We took Chloe to see it when it was in the theaters and she LOVED it. Absolutely loved it. We also took her to see Toy Story 3 on ice and she fell in love with it all over again.
We each have our favorite characters from the movie. I love the Potato Family. Chloe loves Barbie. And James adores Lotso Huggin Bear. Now for those of you who have yet to see the movie, I hope not to give a spoiler here, but Lotso is an evil stuffed animal who rules Sunnyside Day care with an evil heart. Basically, he is not a very nice little bear. So, for James to latch onto him such as he has goes against everything Chloe and I stand for.
While browsing through Mickey Mouse's House (the Disney store) one day, James came across a Lotso Huggin Bear toy. Oh, how he wanted to buy it because Lotso appears quite cuddly. Only problem was, the toy was plastic which would defeat the purpose of Lotso completely. Later, Chloe whispered secretly to me that she would like to buy Daddy a Lotso bear for Christmas. I couldn't resist.
Now Daddy's Lotso travels along with us everywhere we go. He even drives us places too.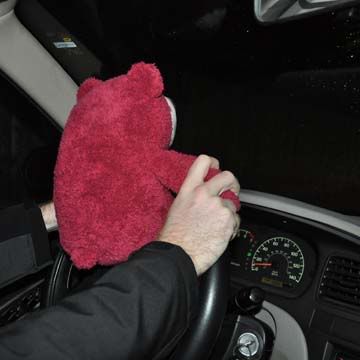 He enjoyed an evening of bowling for New Years.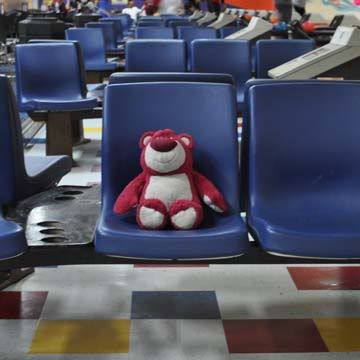 Although I did catch the evil bear trying to make off with Chloe's shoes a time or two.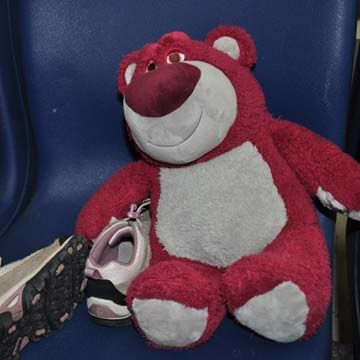 Most evenings, when his mood is right, he joins us for supper...
...but on other nights he sometimes glares at Chloe which renders her unable to eat so we have to banish Lotso to the living room.
After a few days, Chloe is starting to see just how cuddly Lotso can be when he is not plannning evil missions for the other toys.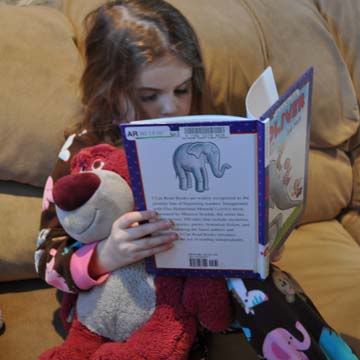 You must be careful with this bear though. Moments after I snapped the picture above, I thwarted an evil attempt to take over the world.
Don't say I didn't warn you. James, on the other hand, believes Lotso can be fully rehabilitated with Lotso Lovin and Lotso huggin. Just be warned. It will be a long, ardous and sometimes painful journey rehabilitating an evil bear. But maybe, just maybe you will experience love that only a stuffed bear can give.