We tried. We sure tried to get snow for Christmas. We headed to a cabin off in the woods with some dear friends of ours to celebrate Christmas but the threat of snow brought us home on Christmas day instead of Monday. We packed everything up, drove home, unloaded the car and hunkered down for the blizzard that was due Sunday. We waited. We waited more. And still we waited.
Snow never came. Well, I take that back. We did see some flurries, but nothing that covered the ground or anything. So, we invited our friends over "after the storm" on Monday for our belated Christmas dinner. Here are some pictures from our stay in the cabin.
Christmas Eve.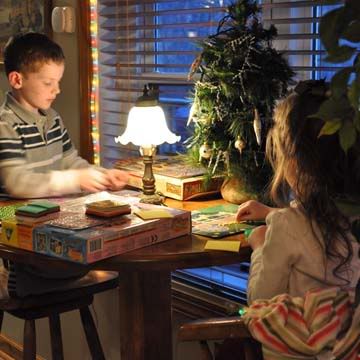 The children received a gift from Jackson's grandmother. Sticky mosiacs. If you have never seen these, they are the coolest idea for young children who would like to learn mosiacs. Think of it as "paint by number" only you are using sticky backed foam tiles instead of paint. Quite clever. When that excitement wore off, we pulled out the gingerbread houses.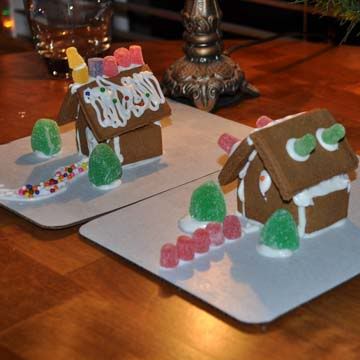 Now many of you may recognize that those houses look an awful lot like Wilton's boxed kits. You would be correct. I decided to buy a box when it was on sale after Thanksgiving because I figured I would not want to bring all my baking supplies and such with me to the cabin. I learned my lesson though. Our Christmas eve tradition will be returning to homemade gingerbread next year. Those little houses you see above? Yea...they are no taller than my thumb. Literally. And edible? I think not. Would you eat something that's been in a box for who knows how long? Nothing beats fresh gingerbread.
At some point in the afternoon we took the kids outside for a romp in the "snow". There was a little hill across from the cabin that made for some fun times.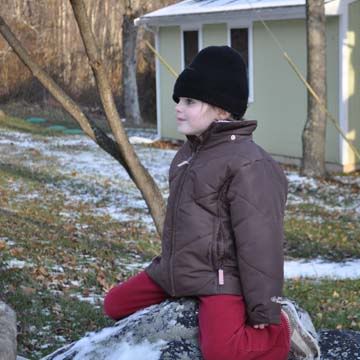 Chloe watched from the rock as her Daddy rolled down the hill...head over heels.
We raced down the hill a few times, threw the frisbee around (which can prove to be a workout for the person standing on the hill) and then headed inside for something hot to drink. Before heading to bed, Chloe and Jackson opened their gifts of pajamas (it just wouldn't be Christmas eve without new pajamas, now would it? Even if we are in a cabin) and then we hung the stockings. It took us a little while to figure out where we could hang them...but I eventually found the perfect place.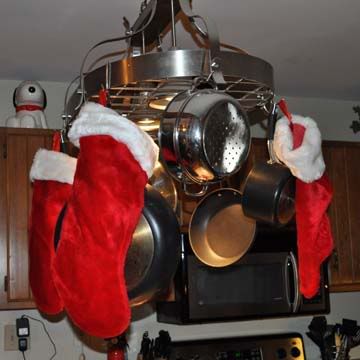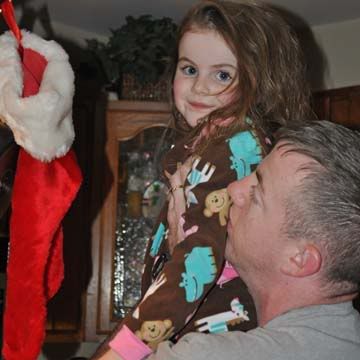 Christmas morning.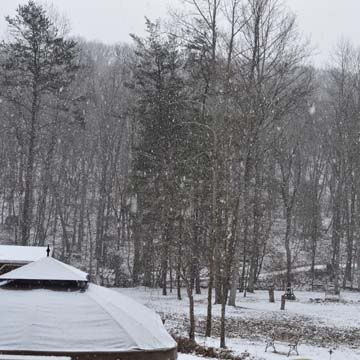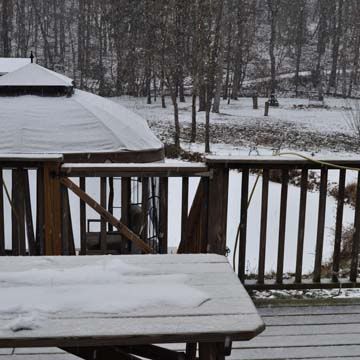 Can you see our light flurries of snow on Christmas morning? Those flurries, along with the news reports, were enough to send us packing and heading home shortly after opening our gifts Christmas morning. We sure didn't want to get stuck four miles down a hilly dirt road. We had a lovely time while we were there though. And we sure would love to go back. In summertime. There usually are not threats of blizzards in summertime.