Okay. So here it is. I am just going to say it, because I have no idea how else to present this information.

Chloe is having a shark birthday party this year
.
Why? I have no clue. It's not that she likes sharks. She trembles when she sees them, quite literally. She refuses to watch them on television. I've tried. I figured if she wanted her birthday party to be centered on sharks complete with a shark birthday cake that she might want to learn about this particular animal. Nothing doing. She has absolutely no interest in them other than her 6th birthday party theme.
Why? I ask you...why?
Last year was princess. A little more understandable since she believes she is, in fact, a princess. It was the perfect party for her. But sharks? SHARKS? Not dolphins? (which she loves) Not sea animals? (which she also loves) I tried to think of things she loves and suggest those. Fish. Cats. Tigers. Elephants. Octopus. Nope. Sharks.
SHARKS???
Well, I prodded and suggested and hinted
and begged
and coaxed and advised Chloe to throw a Dr. Suess party to no avail. Nope. I read Dr. Suess books every night for a week, two and three each night, emphasizing "Dr. Suess" as the author and adding in comments now and again like "Wouldn't that be fantastic on a cake?" or "that would make a hilarious birthday party game." I showed her images on google of spectacular Dr. Suess cakes. I even gave her an ulitimatum. "Today is your last day to change your mind. Once I buy shark supplies, you MUST go through with the shark party." She was okay with that. I bought a shark cookie cutter.
She loved it.
So, the other day I sat down to practice decorating the cookies. Think invitation here. Creative style. I will show you more as I work out the details.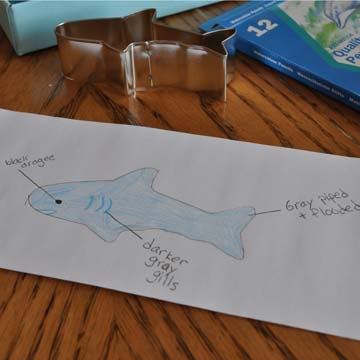 I traced the shark cookie cutter with Chloe's watercolor pencils so I could sketch my cookie decorating plan. Then I baked the cookies. An army of sharks.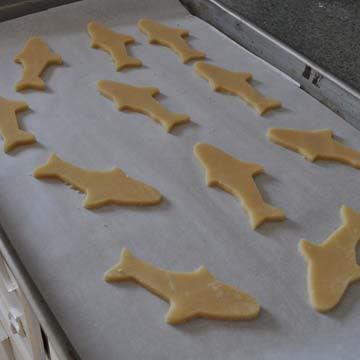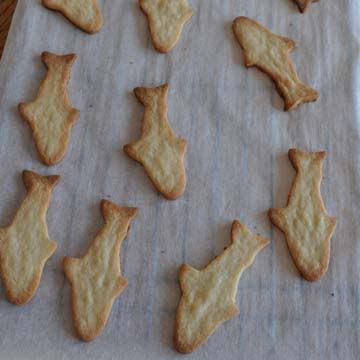 They got a little thin and a little overdone. I will do better next time with a bit more practice.
So, then came the royal icing. I did okay with the piping. I think I mastered that with the
snowflake cookies
. But the flooding technique obviously needs more work. I couldn't get the icing to flood. I went so far as to add about a cup of water to the icing to "thin" it out and I ended up with a royal mess (sorry for the pun). To get the icing to spread into the sharks, I had to use a toothpick and sweep it back and forth over the cookie.
I think I will look for smaller black candy beads for the eyes. Those beads are a tad bit on the large size. I also ran out of patience with the lack of flooding my royal icing gave me so I skipped adding gills on my sharks. Better luck next time.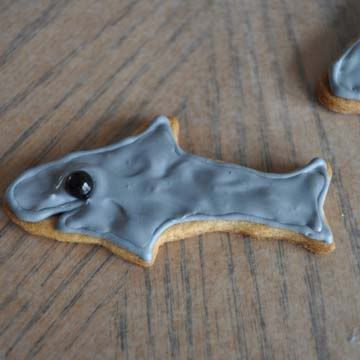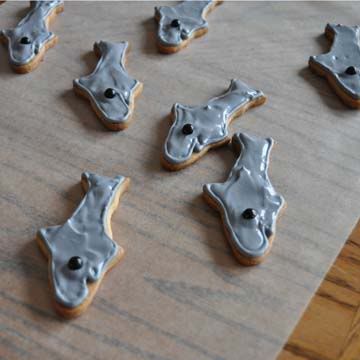 I must be off now to get dressed and head to the store. I've got to get some supplies so I can create more things this next week. I am all about shark parties and bedroom makeovers this week. More on both of those soon. Have a fabulous weekend.