One of my New Year Goals is to lose 20 pounds. More importantly that just losing the 20 pounds though is for me to feel better about myself, to have the energy necessary to run my household and homeschool Chloe. I only lost one pound my first week. I decided to "ramp up the intensity" (to quote Denise Austin, my favorite aerobic video instructor). You are not going to believe what I did this week. Well, let me show you.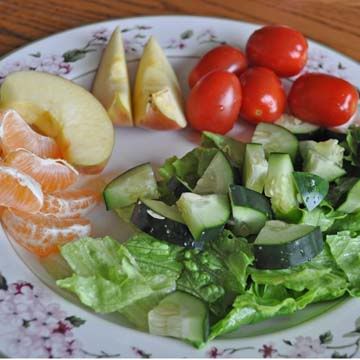 I have been eating a salad just like that every day for lunch this week. This, combined with my daily aerobic workouts, caused me to lose another 2 pounds this week. Woo Hoo!!! I get my video!
How to Steal a Million with Audrey Hepburn
. Yay! One more pound and I get another video. Two more pounds and I get a new outfit. Hooray! Talk about motivation.
But more importantly, I feel a lot better about myself. I have increased my energy dramatically. I can now actually clean my house before dinner if I can't get to it in the morning. I find myself blithely bounding up the stairs instead of the usual trudging I was prone to before. And I have also lost 3 inches around my waist! Yippee Yay! I am now motivated to continue with the exercising and salad grazing.