Here it is. The long awaited, much anticipated cake! Ahhhhhh....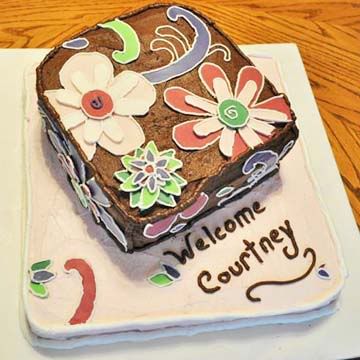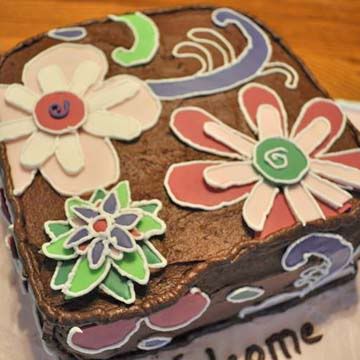 I love CAKE!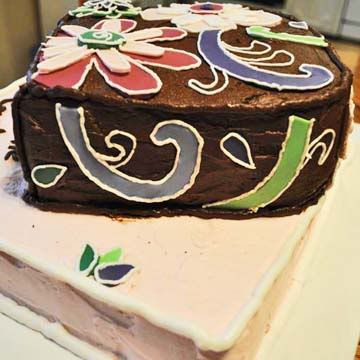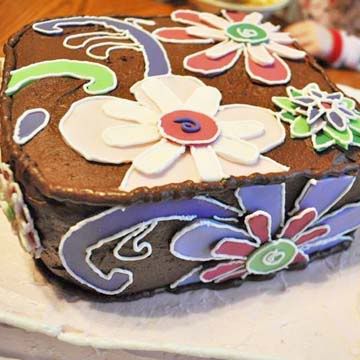 So the sad news is, no one recognized my efforts. Oh sure, they said how beautiful the cake looked and how delicious it was (although, I kept my little cake mix secret mostly to myself) but no one saw it as the Vera Bradley Purple Punch Purse that I was attempting to recreate. Sure, the purse didn't have handles as I realized at 10:00 pm the night before the shower that my chocolate brown fondant from two years ago had dried harder than a slab of granite, thus rendering it useless. And I could not quite come up with the correct shape for the bag when I shaved my frozen loaves with my kitchen knife. I based the design off the Vera Bradley Diaper bag, but this rectangle-ish thing plopped down on top of my pink cake base looks nothing like it, I am afraid.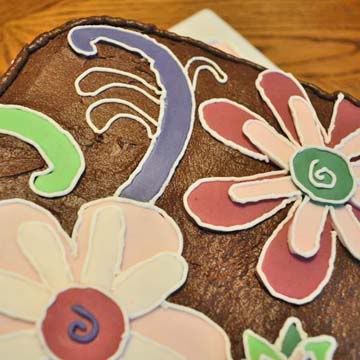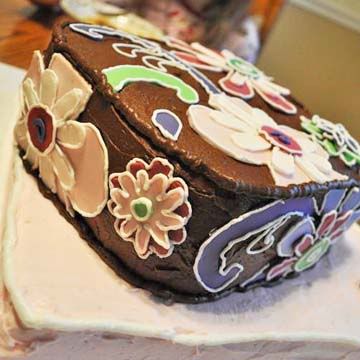 I learned an invaluable lesson concerning fondant while constructing this cake. When making flat fondant flowers which you would like to form around a shaped cake,
do NOT allow the fondant to dry out for three days!
It
will
harden.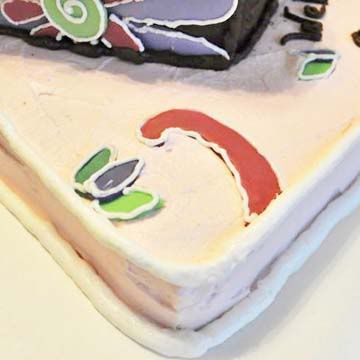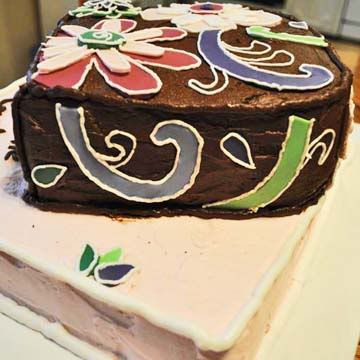 Another invaluable lesson is that no matter how delicious fondant looks, and no matter how many times you attempt to eat it...FONDANT DOES
NOT
TASTE GOOD! Believe me, I tried it many times. Each time reiterating the fact that fondant tastes dreadfully horrid...and not in a good dreadfully horrid sort of way either.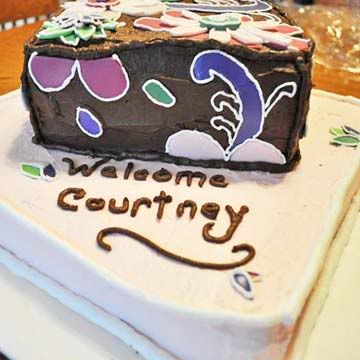 This cake leaves me with 3 wishes.
1 - I wish I could decorate cakes better.
2 - I wish I could take better pictures.
3 - I wish I could have brought the leftover cake home to eat. (I am glad I didn't though...for obvious reasons.)