I needed something quick and easy last Thursday for my creative challenge. I also have a to-do list a mile long when it comes to Chloe's birthday party. 3 weeks, 2 days left until the big day. We are getting down to the wire on this one.
I suddenly realized that I have yet to gather and create the supplies for the party games. So, first up is our fishing game. The children will fish and depending on what they catch they will either do a silly activity like 5 jumping jacks or spin in 3 circles while chanting "Go Fish" or some other silly things like that, or they will get a prize. I needed to create my sea fish though. So, I spent an hour printing and cutting out my fish on cardstock.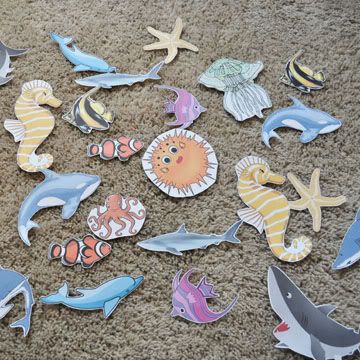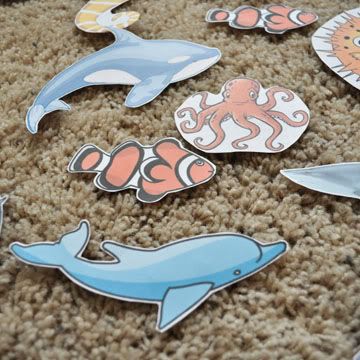 Notice the sharks???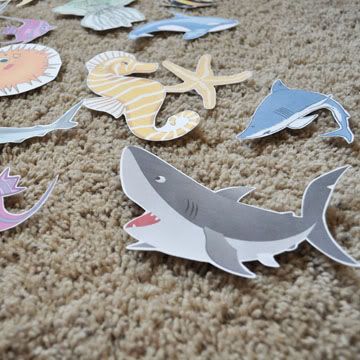 The children will fish and if they catch a shark, they get a prize. If they catch anything else, I will have a list of activities for them to do. (Anyone got any clever ideas?)
How will they catch the fish? I am so glad you asked. I taped paper clips to the back of each fish. I will tie a magnet to the end of a string on our fishing rod and voila! A fishing pole that can catch paper fish! (I should probably test this before the big day though. Wouldn't that be sad if our fishing pole didn't catch any fish.)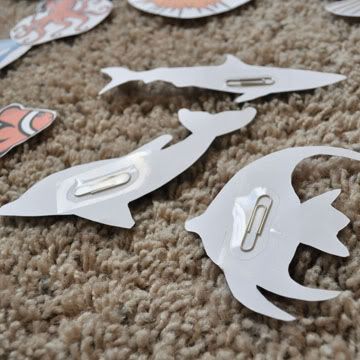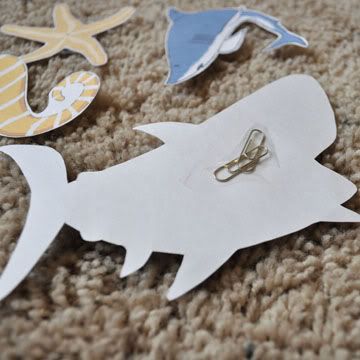 And now I must be off to buy some shark eyeballs. More on that in another post.