I DID IT!!!! I really, really did it! I didn't think I could, but I did. I piped icing and then flooded it and the icing did exactly as I told it to and I could not be happier than I am when I look at these pictures of my shark cookies. (unless you consider my wedding day, or the days I see James, or the days I think about James or the day Chloe was born, or the days I celebrate the day Chloe was born or the days I play with Chloe....)
But this post is about shark cookies and royal icing acting royal.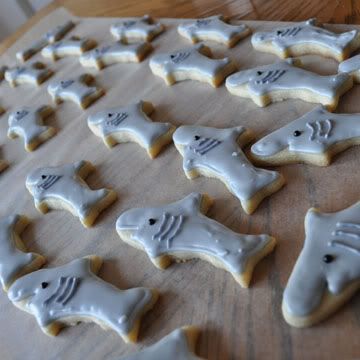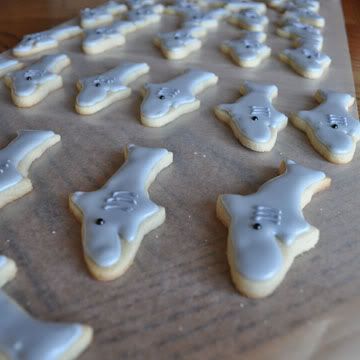 While I remain baffled at my daughter's choice, I have to be honest here and say that I am having an absolute blast creating this party for her. Who knew? Sharks.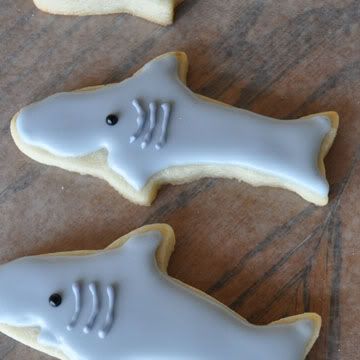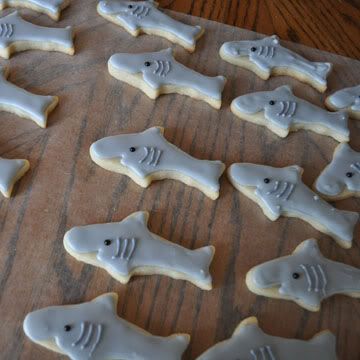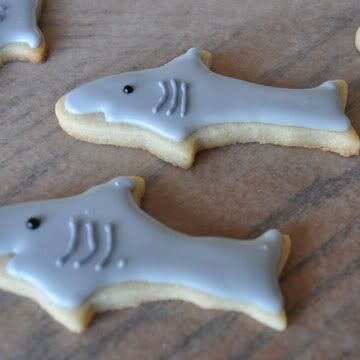 Instead of the recipe I used last time in
Cookie Craft
(which needed to be returned to the library) I found a recipe at
Joy of Baking
that I used instead. Weirdly enough, I didn't add more water for my flood icing. I used the same exact icing to flood the cookies as I did to pipe them and it worked perfectly. Now, my gray color is much lighter on these cookies than I would have wished for, but come on! The sheer joy of mastering flooding is enough to negate the light gray color, don't you think? And did you see those eyes? I was unable to run to my local cake store to pick up smaller black dragees so I simply added cocoa powder and half a jar of black gel coloring to a little dab of icing to create the dark black I desired for beady shark eyes (which I piped on ever so delicately). I even went so far as to add gills to my sharks.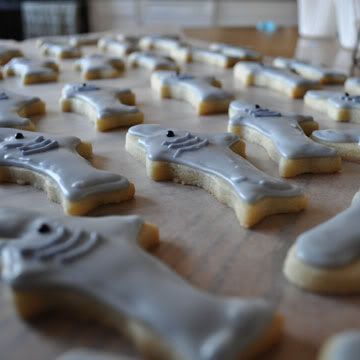 These sharks are so adorable in an ominous, menacing sort of way. (And they taste marvelous too.) Now I leave you with Chloe's newest favorite You Tube video. I believe she would like a whale shark for her birthday. Anyone want to install an ocean in my backyard by March 15th?