So, the cookies in my last post needed the correct packaging and wording to transform them into a birthday party invitation. How does one package a shark cookie so that the recipient understands they are invited to a party? I spend quite a bit of time pondering this very question. Here is what I came up with.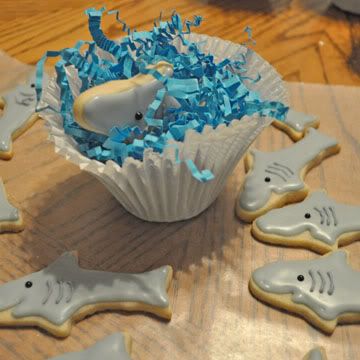 Chloe jumped right in on the action. How could I not let her participate in an activity involving paper confetti? (Which, if you care to look, is probably still floating around underneath the fridge.)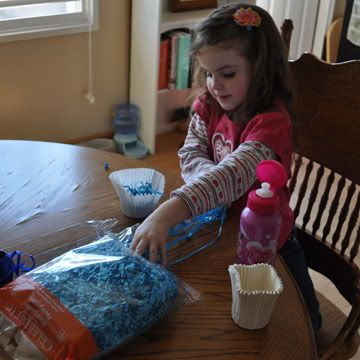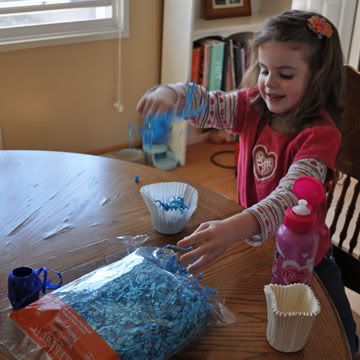 I took giant paper cupcake wrappers and Chloe stuffed them with blue shredded paper.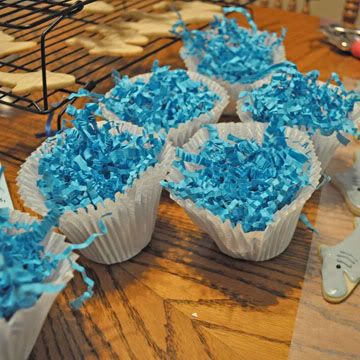 Plop in a shark and voila!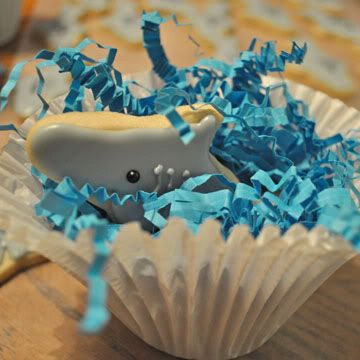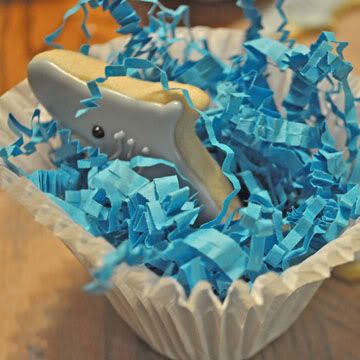 That takes care of the wrapping, but what about the wording. I puzzled over this for a few days. Birthday planning websites offered no brilliant, breathtaking ideas. I searched the internet far and wide for a suitable shark poem that I could alter the wording to make it fit an invitation to no avail. Most were slightly too graphic for a 5 turning 6 year old girl's birthday party.
I finally resigned myself to the fact that I would have to write my own shark party invitation poem. Not that I couldn't do it. I used to write a bit of poetry back in the day. I know how to rhyme. I teach kindergarten to Chloe, after all. I just needed to bolster my courage and pick out some shark-esque words that rhyme.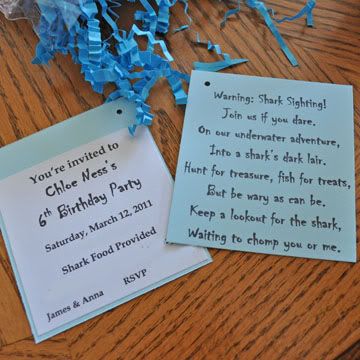 WARNING! Shark Sighting!
Join us if you dare;
On our underwater adventure,
Into a shark's dark lair.
Hunt for Treasure, Fish for Treats,
But be wary as can be;
Keep a lookout for the shark,
Waiting to chomp you or me.
Not my best poetry, but it works for its intended purpose. And Chloe loves it and reads it to everyone who will pause a moment to hear her, so that's that. She is the only one I need to impress with these party plans and so far she is duly impressed.
I included all the pertinent party information on the back (note the line "shark food included") and then wrapped my shark cookie cupcakes in plastic wrap, tied a bit of blue curling ribbon around the top which attached the wording on the outside. Oh, I forgot to photograph it, but I also printed each child's name on a small bit of gray paper and added it on top of the "invite".
And now I leave you with a fascinating video of a basking shark. (This is Chloe's second favorite You Tube video at the moment.)