I read a novel last week regarding a woman living in New York City who learned to cook. Hmmm...you can just imagine what reading this book did to me. Yep! You guessed it. I needed to learn to cook something. In this particular book (which I will not name here because I cannot honestly recommend it...had some horribly bad parts I wish it didn't have) the woman first taught herself how to fry an egg. Simple enough, right? Doesn't everyone know how to fry an egg? Well, after I thought about it for a day or so, I realized that I don't properly know how to fry an egg. Oh, I get by mind you...but maybe, just maybe, I am going about it all wrong. I googled "how to fry an egg" and quickly found out that I, indeed, was defectively frying my eggs. How sad! (Can you feel for my poor family? They've been sorely neglected.)
First things first. I learned that to correctly fry an egg, you simply MUST use butter. Not margarine. Not cooking spray.
Butter!
How could I have been so disrespectful to eggs for so many years?
Then you gently slip the egg into the pan after the butter froths. (ohhhh....how I love to hear that sizzle.) Cover the pan and cook until the egg white is set.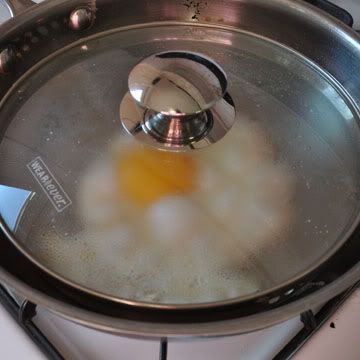 Now I like my eggs over easy, so I flip it with a pancake turned and let it cook another 30 seconds and voila! Yummy runny eggs.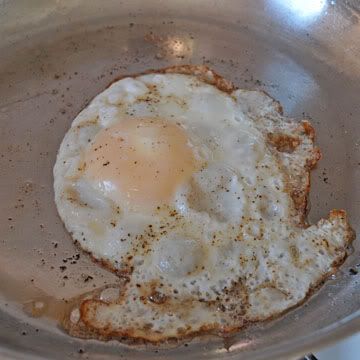 Runny eggs need toast to sop up that delicious golden yoke.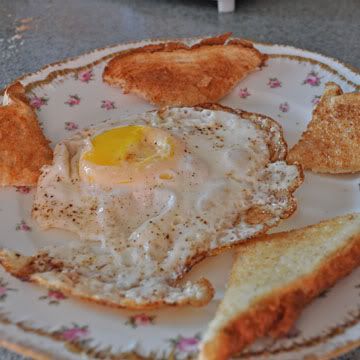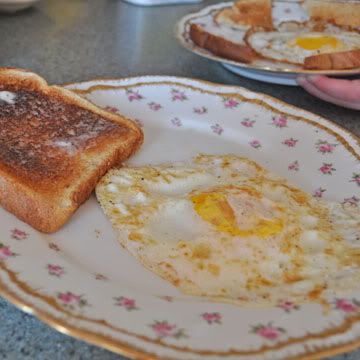 And that, my friends, is how you fry (and eat) the perfect egg.