The Pancake Story
It all started early Sunday morning. We borrowed
Pretend Soup
from our library and Chloe begged to cook something from it. I decided to try out the blueberry pancakes Sunday morning.
I allowed Chloe to do most everything involved in making these pancakes. Yes, even cracking the eggs for her first time ever.
She poured milk from a pitcher (which I filled with a bit of milk for easier pouring. The gallon milk jug proved slightly too cumbersome.) into the measuring cup...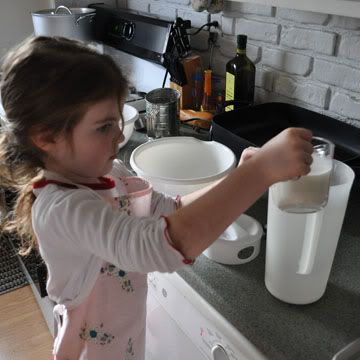 ...and then poured the excess back into the pitcher. This happened a couple of times before we arrived at the correct amount.
This book is simply amazing. Not only is it full of recipes, but if you turn the page, there is a picture recipe with a few words under each picture. Chloe was able to read her own recipe and follow the instructions herself which left me free to snap a hundred pictures.
Seeing the wonderful job she did at cooking the pancakes, I went so far as to hand Chloe the syrup bottle. Wow! What a unique privilege for this little girl. She felt so big! (She IS going to be six in two weeks, after all.) And then the first bite...
Ummmmmmmmmmmm........
These pancakes are
fall-off-your-chair
delicious!
"giggle, giggle"
Now you may be asking yourselves, "How is that Anna's creative attempt when Chloe made those pancakes from scratch?" Check out that first pancake above. Yup! That's mine. *grin* Creative, right?
Oh, I also took all these pictures. Photography is creative too. So, there! Two creative attempts in one day! I am on a roll...