Every now and again, we are given the privilege of knowing someone so unique and extraordinary they impact our lives significantly and change us forever. For me, that happened to be a cat.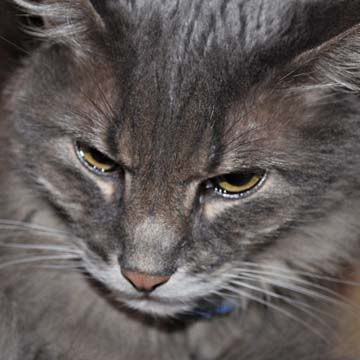 Please forgive me as this will be a very emotional post for me and parts of it contain portions of my life which I have shared with very few people.
A little over 14 years ago, I left home at the age of 17. After trying out a few places, I eventually found my way into a small apartment within walking distance of my high school. The first week quickly passed before I walked up the stairs to the manager's door so I could sign my contract for the apartment. At the base of her door sat a miniature food dish alongside a water dish. As I knocked on her door a long-haired gray cat strode up the stairs, gave a meow and started rubbing on my legs. I reached down my hand to stroke her head. The minute my hand touched the cat's fur I heard the loudest purr I have ever heard emit from a cat. She rubbed her head and face against me a few times, her little engine roaring powerfully.
I commented to the manager as I was signing all the papers on what a beautiful and loving cat she was, thinking it was her cat. The manager proceeded to inform me that this cat didn't normally like people. Her previous owners used drugs and abused the cat. They would swing her around by her tail and let her go to slam into the walls. They would blow drugs in her face to make her high and then laugh at her drug-induced antics. Well, they ended up skipping out on the apartment because they couldn't pay the rent and left every item they owned inside. Including the cat.
The manager didn't realize what had happened until
two weeks later
. When she entered the apartment, she found the cat inside. She had been left behind with no food source and no water bowl. She had been drinking water dripping from the faucet in order to stay alive. The manager mentioned that she would keep the cat herself except she was allergic to pets. I sadly said I would love to have the cat but I pointed to the "No Pet Agreement" I had just signed my name to and said I couldn't. In a blink of an eye the lady picked up the piece of paper, tore it into shreds and said, "What pet agreement?". She grabbed a half full bag of cat food she used to feed the cat and the food bowls and handed them to me. As I exited her apartment I asked what the cat's name was and she said,
"Pattycakes"
.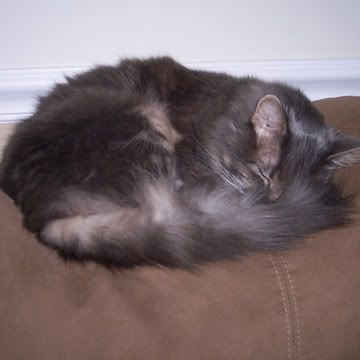 We enjoyed a blissful summer. James and I spent as much time together as possible, savoring our new found freedom from the confines of school. Every afternoon, I would return to my humble apartment and receive the greetings of an overjoyed kitty. Our bliss would soon end. James would join the military and leave that September for boot camp, leaving me by myself.
At this time in my life, I had no friends. I was not on speaking terms with my family so I spent each day waking up, going to work for 5 hours and returning home. I worked at a restaurant which provided me with one free meal a day. That was all I ate. I came home and immediately dove into bed to hide from my loneliness. 16-18 hours later I would drag myself out of bed, get dressed and go to work again. I literally slept and worked and that was it. Most of my days off were spent sitting on my couch, staring at the white wall. I would sit and stare for hours at a time. Sometimes I would find that I had been crying, but I wouldn't remember when it started or for how long.
During these times, Pattycakes would jump into my lap and gingerly kiss my nose, after which she would curl up onto my lap and purr. If I didn't respond in a timely manner to her kiss she would stand back up and head butt my face, as if to say, "Come back to earth, Anna. I am here."
Pattycakes is the reason I am alive today.
When James and I decided to get married I informed him, "If you marry me, you marry my cat. Pattycakes comes with me. I will never leave her." (He was living in Germany at the time.) He wholeheartedly agreed and so Pattycakes traveled the world with us. She was there for everything.
Pattycakes never left my side. If I sat on the couch, she would sit on the other side. If I walked into the bedroom she would follow and lay on the bed. If she happened to fall asleep somewhere and didn't see me leave the room, I only had to call her name and a minute later she would appear. Pattycakes loved to be cuddled. She would rub her face against mine and press her body against me as if she just coudn't get close enough. I could sit and pet her all day and she would purr her little heart out. There was never a moment in her life when she didn't desire to be in my lap.
Tuesday afternoon Pattycakes died.
She was 17 years old.
I miss Pattycakes.
It hurts worse than anything I have ever felt before.
Every now and again, we are given the privilege of knowing someone so unique and extraordinary they impact our lives significantly and change us forever. For me, that happened to be a cat.