Better late than never, right? (at least that's what I am trying to convince myself of so I will feel better about my lack of updates recently...kindergarten is harder than one would think...) Anyways, without further ado, I present to you (drum roll please)
Chloe's 6th Birthday Cake
. (She stuck with her shark theme and I must say it was a fantastic party. You all might try convincing your 6 year old girls to have a shark party as well.)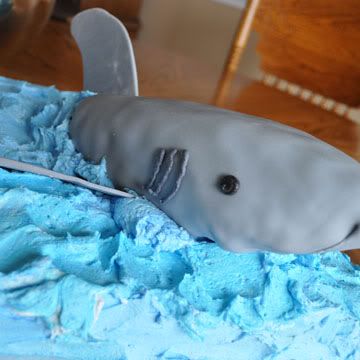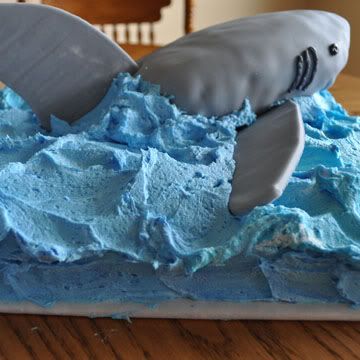 So, let me tell you about this cake. Chloe asked for a vanilla cake when I inquired as to the flavor she desired this year. Vanilla? Vanilla cake? Okay. Out came the baking cookbook and the search for a vanilla cake. This is the first year I have attempted to bake a cake from scratch AND decorate it too.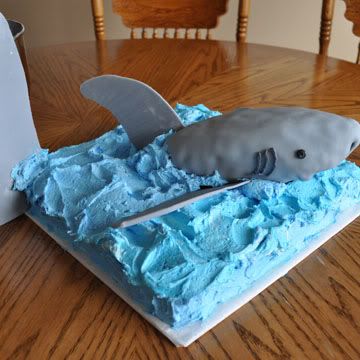 I found the perfect Vanilla Chiffon cake and although it required a few extra steps in the process, it turned out to be scrumptious. Very much worth the effort.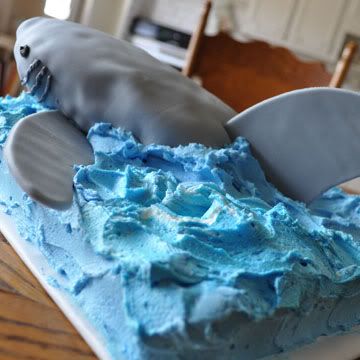 Now the ocean waves you see are buttercream frosting. Can you get any yummier than that? I think not. I took two different colors of blue and gingerly mixed them seperately so that some marbling took place with the bright white icing. Then I used both blues to cover the square sheet cake. Easy peasy! This has got to be the easiest cake I have ever made. (At least for Chloe's birthdays, that is.)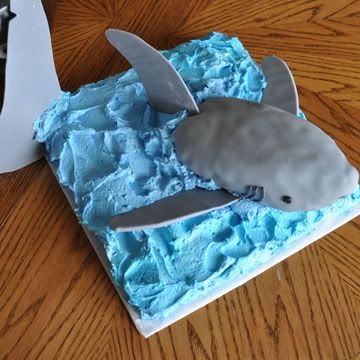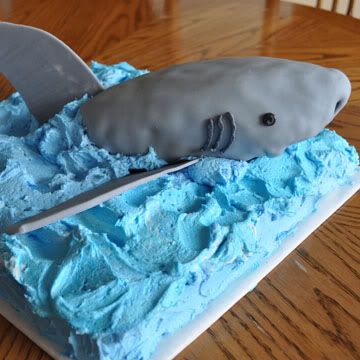 Now for my little shark. I opted to cover a loaf cake in fondant. I am beginning to see the value in fondant. I made sure I spread an extra thick layer of buttercream on the loaf before I smoothed the fondant over my shark. Oh, but wait. I am jumping ahead of myself here. How did I get the shark shape? So, I baked a chocolate cake in a bread pan. I froze the sucker overnight. The next day I wielded my carving knife and produced my very own shark.
I actually made the fins and tail with fondant the day before and laid them out to dry overnight so they would hold their shape. After the cake was finished, I used a tad bit of buttercream to add the eyes and gills.
Chloe simply said, "Yup. That's right!" when I showed her the cake. My little drama queen. Imagine if you will a grin plastered across her face as she made this seemingly benign statement. The poor girl begged and pleaded for her shark party. This was her way of proving her point, I guess. The cake turned out absolutely delightful. (I would not, however, take the advice of multiple friends who suggested I add red blood from the shark's mouth...)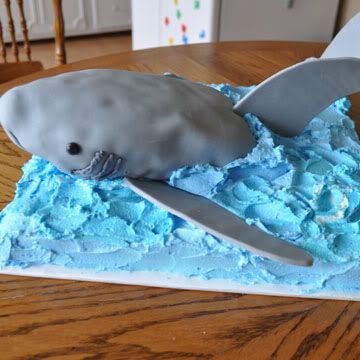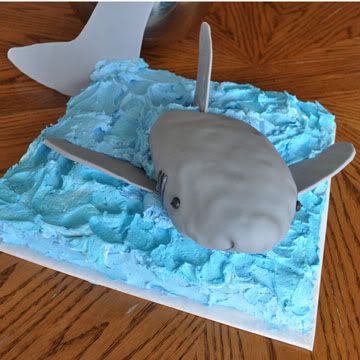 Lesson learned. When your 5 turning 6 year old daughter asks for a party theme which you think is uncharacteristic, just go with it. You never know how much fun you could have. Now we are discussing a tea party option or a chef party for next year. The big 7! Wow! I don't want to talk about it anymore. I am off to enjoy our third to last day of kindergarten with my SIX year old. (She IS 6...no matter how many times she tells you she is
almost
7. She is still just six...barely.)