A girl just cannot survive Disney World without the proper hair treatment, can she? I highly doubt it. Seriously though. A girl simply
NEEDS
her hair bows.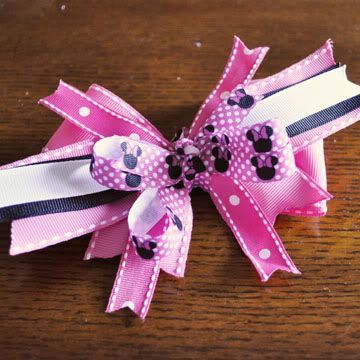 Unfortunately, search though I may, I could not locate any Mickey or Minnie Mouse bobbles to decorate my hair bows with. I tried three craft/sewing stores. Before I completely frustrated my child to the point where she would then refuse to wear the hair bows I worked so feverishly on, I opted to purchase some Minnie Mouse ribbon with which to create the hair bows. Compromise. It keeps everyone happy...most of the time.
I find it mildly humorous to watch my progression of projects. I start with something quite elaborate like that funky boutique bow above. Each bow then grows smaller and less complicated. I created a double layered bow next. A tails down for the bottom layer and a diamond cut for the top.
I then ran out of the gorgeous pink ribbon which I found half off at Hobby Lobby (Oh? Did I fail to mention we have a Hobby Lobby now? Oh my goodness. How could I do that? Yes....hooray! My most favorite store on the planet is now in my area! But I digress.) and so I decided to finish off the Minnie Mouse ribbon with these cutsie little bows. Again with the double layer but this time I used the tails down bow on both layers, just turning one bow upside down when I wired them together.
I taught myself something new yesterday. How to line an alligator clip.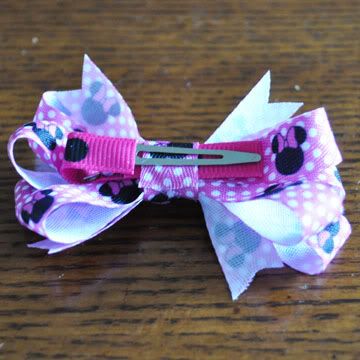 This was my first time attaching bows to alligator clips. (It wasn't complicated. Trust me.)
So, now Chloe is all set for Disney World, if only her mother would get off the computer and start packing. We leave tomorrow! Do you want to know something funny? I am walking around in a complete daze. Weird, huh? It's like I don't even know where to begin. Thus, the hair bobbles yesterday. Could I walk out to the shed and dig out the suitcase? That would be a good place to start. No, I couldn't even do that. I had to run all over creation searching for hair bow supplies. Sigh. And now here I am blogging. More than likely, I will put off packing until tomorrow afternoon and then find myself running around like a chicken with its head cut off and invariably forget to pack something important like underwear. (Do you think they sell underwear in Orlando?) Okay. So, before I panic I think I better run along and dig out that suitcase. I wonder if I could make fairy wings today? No, Anna! Focus! Suitcase. Underwear.