With the start of our first grade school year today came the inception of a new Sunday afternoon tradition for Chloe and I. I plan to spend the afternoon reading missionary biographies to her (just one chapter a week...not the ENTIRE afternoon) and then creating something special and unique for just the two of us.
My mother introduced me to the idea of an altered book about 3 years ago when I was back for a visit during James first deployment. While the notion intrigued me, I never got around to starting one myself. Well, as James was preparing to leave Saturday, the idea took root once again and I knew it was the perfect solution to our lazy Sunday afternoons without him. (Sundays tend to be the hardest for us to get through without our dear man.)
Okay. So, to find a book that needed altering. And you know me...I own just the book.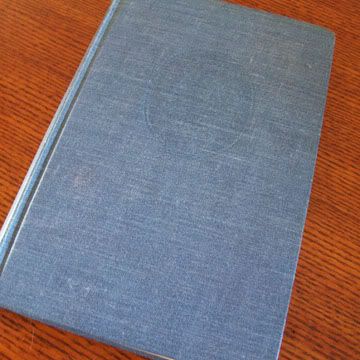 Now I am not going to tell you what book this is, because...well...ummmm...there is a slight chance that it may or may not still be under copyright for 3 more years. So...we will just say that this is a VERY old book which I feel no longer needs to be in circulation.
Ahhhh! Now for the fun stuff!
The only rule for our creation is that the pages must reflect Chloe and I together. Our book is an expression of our relationship. We each can bring different elements to the book, but the page must tell our shared story. Sound complicated? It's not, really. Just a bit hard to explain on paper. (I'll just say that Chloe understood when I explained it to her. And
she's
6.) So, care to see our first page? Thought so.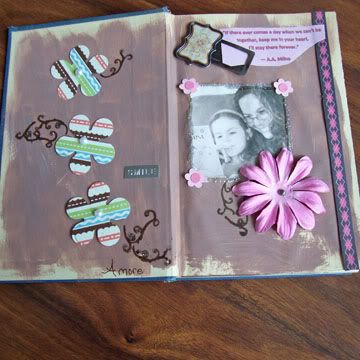 We painted the background with brown acrylic paint. After it dried, we glued a recent picture of us down (recognize it from Me and Mommy Day?) and edged it with glitter glue (from Chloe's art supply box). She picked the pink flowers to add to the page. I attempted to stencil a design onto the background but my pen bleed so we covered up the worst of my mistake with Chloe's giant pink flower. PERFECT! (We work so well together.) Chloe also added the paper flowers down the middle of the opposite page to which I adhered pearl centers. A little more stenciling, Amore written on the bottom and a small do-dad that says "smile" finish off the page.
We wanted the page to introduce the concept of the book. We needed it to describe our creation in some way. I found one of our favorite Winnie the Pooh quotes and printed it off for the top of our main page. Absolutely Perfect! Chloe and I actually cried a bit together while making this page. It is sooooooo us. (I think the quote is what did us in though, if truth be told.)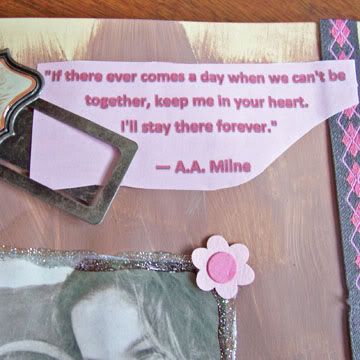 Well, so that's it. Our first page. My hope is that we can create at least one page every Sunday until we finish the entire book. By then, maybe Chloe will feel comfortable enough to create her very own altered book. (Or, better yet...I will feel comfortable
allowing
her to create her very own altered book.)
And now I am off for a chapter 7 of Mary Poppins Comes Back, snuggles and evening prayers and then I need to work out some kinks in our school plans. Have a stupendously capital evening and I'll chat at you again soon.