I can't recall the last time I baked a crumb/coffee cake for breakfast. Many years. I miss it. But in my endless (and futile) effort to eat somewhat healthier, cake for breakfast was the first thing to be removed from my diet.
Last night, after dinner, I proposed to Chloe that we bake something for dessert. "Chocolate cake!!!" she quickly suggested. "Brownies!" was my immediate response. Quietly, James voiced his vote. "How about a crumb coffee cake thing. We haven't had one of those in a while."
How could I deny my husband? He never asks for dessert, let alone a specific one...unless it is chocolate chip cookies but that's different. Completely.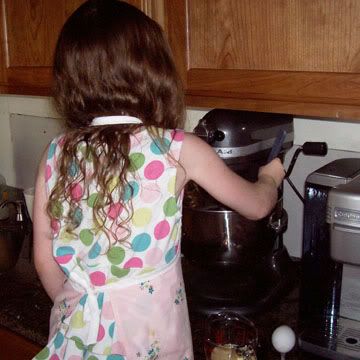 Anyways, Chloe and I whipped up the crumb cake last night and savored a piece before bed. The first thing out of her mouth when we walked into the kitchen this morning was, "Cake?" Ahhhh...that's my girl. I couldn't very well say no. After all, I planned on having a piece myself with my coffee.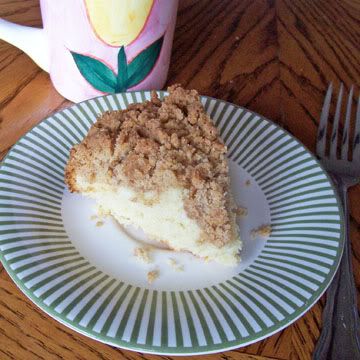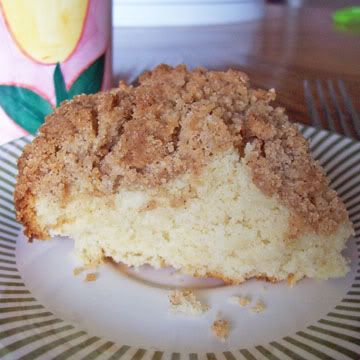 This simple recipe came from my
Good Housekeeping Great Baking
cookbook. (I know I've mentioned that book on this blog before. It is, hands down, my favorite cookbook.)
And now I am off to dream about baking some bread. Fig Walnut Bread to be precise. Doesn't that just sound scrumptious? Problem is, I can't seem to find any figs in my cupboard. Weird, eh? So, plain ole white bread must suffice. (I am out of whole wheat flour.) Have a delectable day everyone. I am sure I will.