Frankly, I am quite surprised that my mailman has consistently delivered our mail. I don't think I would have dared to reach in through this thorny monster to deliver someone's mail. Rose bushes win every time.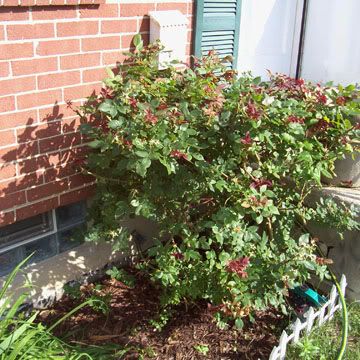 Now mind you, this picture was taken shortly after our late spring pruning. Give it a month and she would have stood taller than the mailbox you see hanging on the wall by about a foot. Yea...brave mailman. We were forced to prune this sucker about once a month and yet she still kept right along growing. So, if you want a huge shrub rose with gorgeous blooms all season long that won't die even when you try to kill it, then I strongly suggest going with the Knockout Rose.
So, the shrub rose had to go. I also felt a desperate need to get rid of the plethora of Iris from the mess I called my garden. The stunning Iris flower blooms only a short period of time. While breathtakingly gorgeous, the rest of the year I am left with this...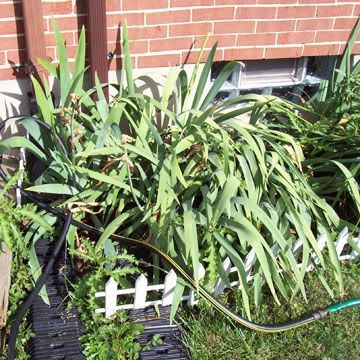 A muddled mess of decaying leaves. Not such a pretty sight when they cover 1/3 of the front garden. The only flower I actually love in this garden are my Daylilies. Aren't they beautiful? I love the color and the leaves stay nice and green even after the flower has finished blooming.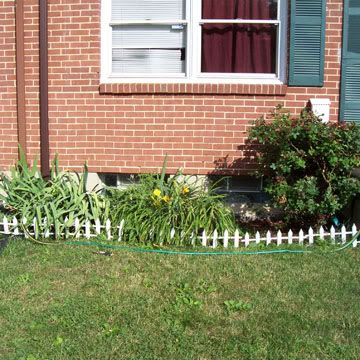 I also sadly neglected my flower pots for a year. Poor dears need some loving. (Those are
weeds
you see in that pot. Pathetic. I know.)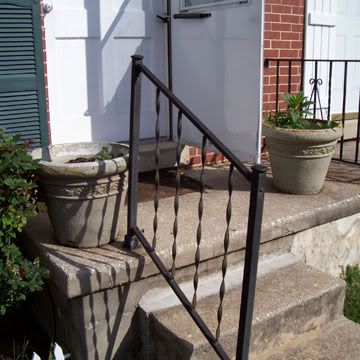 I ripped everything out this week.
I curved the front of the garden for eye appeal. A friend of mine offered that suggestion and I decided I liked the idea. This was about as bold as I got though. (I blame the garden hose for my lack of inspiration. It simply would not stay put where I placed it. I could have created something more visually impressive if the hose would have cooperated.)
And then the new plants went in. I bought another Knockout Rose (I know...I know...) to put on the OTHER side of the garden. I went with a lighter pink this time too. I planted Rosemary underneath the mailbox because I figure it will make a nice height once it grows but will not hide my mailbox. In front of the Rosemary I planted a trailing Geranium. Talk about gorgeous! Wow!. Behind the Daylilies, which I left in, I planted two Lavenders. I needed fragrance and height. In front of those, on either side of the Daylilies, I added two Azaleas. I wanted boxwoods but the nursery was sold out and these will still stay green all year with the additional bonus of blooming in the spring. (And these will be PINK! What could be better?)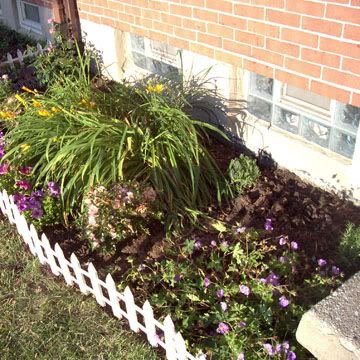 I added a few petunias to the front for instant gratification and voila! I have a garden! So, in a couple of months I will take more pictures and show you how she looks. I am sure it will be scrumptious. (And for you doubters out there, I
do
believe gardens can be scrumptious.)
Oh, and before I forget. You can no longer call my flower pots neglected.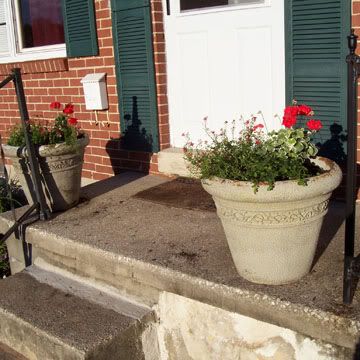 Well, I am off to prepare for a playdate. Have a delightful summerly day! Oh...and if you have time, I updated the
homeschool blog
. It's just our first grade book list but I thought someone might be interested in it. I know I always love perusing good book lists (weirdo that I am). So, go enjoy your summerly day.