Our final school book arrived in the mail yesterday and Chloe could not wait until Monday to start it. I know, I know. But we did so good. We made it to Saturday before diving into our school books. Let me say though...its hard to pass up a good art project. And this book is choke full of wonderful art projects.
Usborne What Shall I Do Today?
Chloe saw the masks and just HAD to make one. She has been begging for quite some time now to make masks with me. I've put it off because the instructions I find everywhere appear a bit more complicated then I feel inclined to work through.
Not so with this book. So, I found myself pulling out all our art supplies again this morning and designing masks with Chloe. She was thrilled!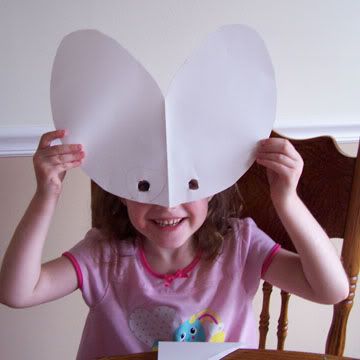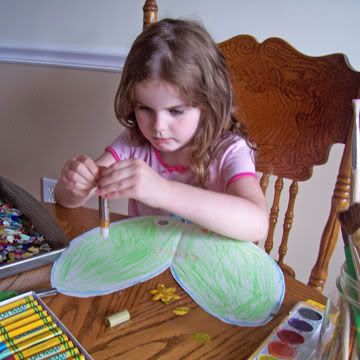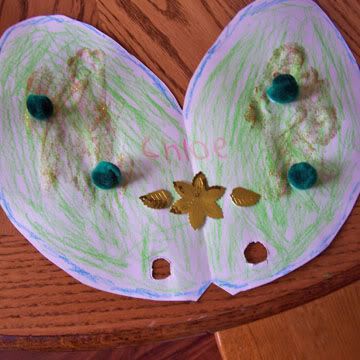 Chloe wanted to make her mask a heart shape. I giggle because it looks a little bit more like
Skippy Jon Jones
to me. Either way, she loves her mask. I also found it a bit humorous that she opted to write her name on the front. I guess I should explain to her the purpose of a mask? (She claimed she wrote it "so that people will know who I am in the dark." Yea. She doesn't get it.)
And you all know me. I always have to complete the same art project alongside Chloe. (Can't quite decide if its more for her sake or my own...)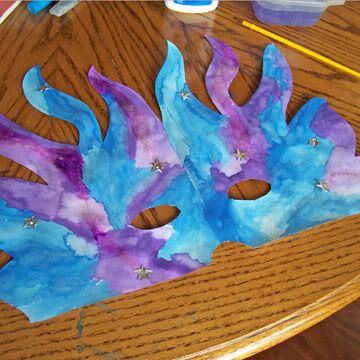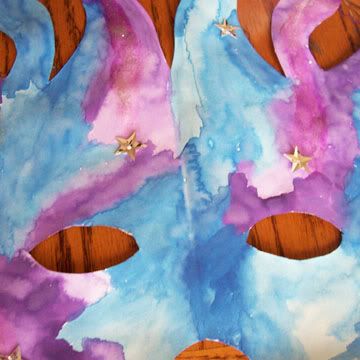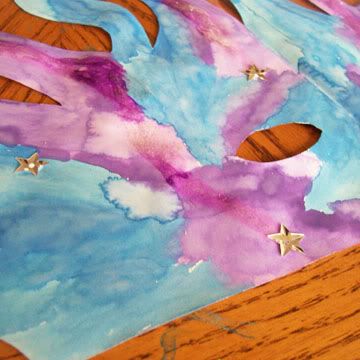 I used watercolor paints on that one and then spread swirly lines of silver glitter glue around. I added the stars for that extra bit of glam. I must say that James was quite impressed with my mask. (He refused to participate in the project even though Chloe practically begged him on her knees.) I do believe I heard "Wow!" escape from his mouth too.
But then I couldn't stop at just one mask. I felt an urge to make another one. James asked, "You really enjoy that???" Oh yes. I do. It seems I can't get enough of kids art lately. Maybe I am re-living my childhood or something. I don't know.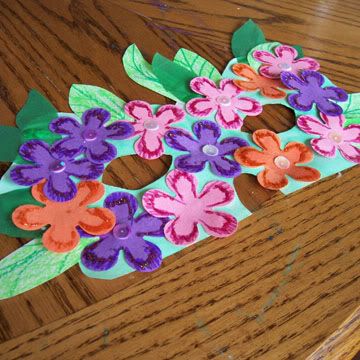 For this mask, I painted the background with green watercolor. I cut out leaves from tissue paper and drawing paper. I used Crayola oil pastels on the drawing paper. I used a flower paper punch to cut them out of construction paper. Markers added the little edging on the petals and then a dabble of glitter glue on top. I stuck a sequin in the center of some of the flowers. Voila! My bright jungle-esque mask.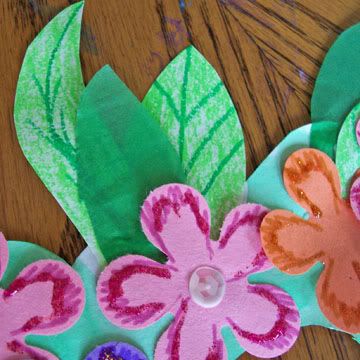 Okay. I am off now to spend the afternoon/evening with my family. James heads out tomorrow morning for 6 weeks. Booo! Not happy about that. But it's only 6 weeks. MUCH better than 6 months. And I get to go visit him at the end and possibly even see some old friends! That is exciting! Gives me something to look forward to.
So, do you think I could talk James into spending his last afternoon with us at the Thrift Store? I have a couple of projects in my head that need to get out but I need to stop by the thrift store for supplies. I wonder if he'll say yes! (Maybe I could entice him with chocolate chip cookies.) Anyways, I better run along. Have a fabulous weekend. I'll chat at you again soon.