I love Me and Mommy day. We started the concept while James was deployed. I don't recall exactly how it came about, but I do remember it had something to do with Chloe feeling forlorn and I felt horrible and so I instigated a Me and Mommy day. Chloe wrote her very own to-do list for us and we spent the entire day working our way through it. She even crossed off the items herself as we accomplished them. By the end of the day we felt so connected and we both had a truly delightful time.
Well, you can imagine that I receive multiple requests every day for more Me and Mommy days. It was clearly her favorite. So, last week I finally said yes. (You have to understand the concept. I don't do ANYTHING all day except what is on Chloe's list. So if she doesn't write "vacuum floor" I do not vacuum the floor. It can be quite intimidating to say yes to a Me and Mommy day. But oh, the joy and the fun. It makes it completely worth the double list of chores the following day.)
I scribed Chloe's "to-do list", only this time I added a little twist to the concept. I wrote out the to-so list the night before while she was sleeping. All the ideas were mine. (She was a bit apprehensive at first, but soon realized my ideas were totally cool too.)
This face says it all.
First item: Read a book.
Item #2: Play Trains. (We find it imperative to build a large city and a countryside surrounding our train tracks.)
Item #3: Play Kitchen. This time we decided to play restaurant instead of "kitchen". Together we made a menu and took turns being the waitress/cook for each other. We even rated the restaurants based on service and whether we received the items we ordered. (The restaurant seemed to be out of 3/4 of what I ordered.)
Chloe gave my restaurant five stars. Hooray! She said she loved the added touch of Romano Cheese I put on top of the soup.
Item #4: Draw Castle. I bought Chloe the Usborne Book titled
365 Things to Make and Do
for her birthday. I thought we needed to make more things out of it so I added Draw Castle to our to-do list. Chloe is fairly good at drawing and it is something she enjoys so I am hoping to help her increase her skills in that area this next year.
I want to increase my drawing skills too so I drew a castle with Chloe. (It WAS Me and Mommy Day after all.)
Item #5: Read a chapter of Mary Poppins. We are currently working our way through Mary Poppins Comes Back. Chloe thought it would be a good idea to read all the Mary Poppins books after having met Mary Poppins at Walt Disney World last month. (More on that when I finally gain access to my photos on the hard drive.)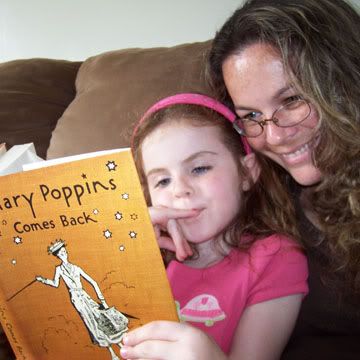 Item #6: Color a Picture. This is not Chloe's favorite thing to do, but I just loving coloring pictures with her, so I added it to the list and she obliged. I suppose solely for the fact that it was Me and Mommy day and she just enjoyed basking in my presence all day.
Item #6: Build with Legos. I hope this teaches her logic. I don't know. But she loves it when I build her things for her playacting. She hasn't quite mastered the concept that she too can build things. She would rather I do the hard work so she can then play with it.
This is a house I built while watching a you tube tutorial. (Can you believe what you can find on You Tube? How did people do ANYTHING prior to the internet???) Chloe then tried to mimic my house.
Item #7: Put Together a Puzzle. I allowed Chloe to pick a puzzle and she pulled out this simple 24 piece princess puzzle. I told her if she wanted that puzzle, I would not help her. I only help on the 100 piecers. She was perfectly okay with that.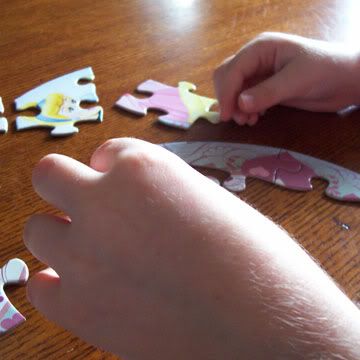 Item #8: Go Swimming. Nuff said.
Item #9: Tickle War. Nuff said about that too.
Item #10: Play with Kitties. By this time we had reached the end of the day and neither kitty seemed interested in playing with us. It was almost bedtime thus their snuggle time. I usually snuggle with them for a bit after Chloe retires to bed. They stood around anxiously awaiting for that moment. But we still tried and Chloe enjoyed racing across the kitchen floor with the toys regardless of whether the kitties chased her or not.
It amazes me that we never seem to be able to finish our to-do lists on Me and Mommy Day. I shorten them each time too. Sometimes I even set a timer on each item, but we still can't get through everything. Oh well. We have a fabulous time anyways.
I have an idea regarding our next Me and Mommy Day. I plan on homeschooling for 6 weeks and then taking a grace week. 6 weeks on, 1 week off sort of a rotation. We could appreciate a Me and Mommy Day full of playful fun during our break from school work. I might just employ that idea.
So, what do you all do that is special for your children? Got any wonderful ideas or favorite activities that your kids beg you to do over and over?