We've been bird watching in the back yard quite a bit lately. To entice our feathered friends to our yard we are adding some little touches here and there. First we painted some terracotta pots that I stacked and glued together for bird feeders.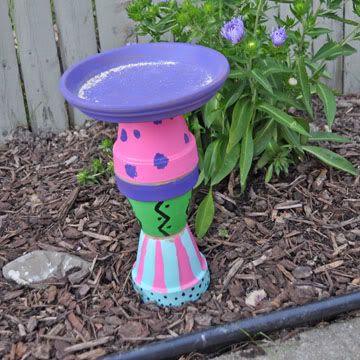 Chloe painted hers to "scare away the birds." I couldn't figure out why she felt the need to scare the birds away from her bird feeder. Who can fathom a 6 year old's logic? Sometimes, I don't think she even understands herself. The top pot is painted like a bee's eyes. (Note the black "eyes" on the yellow head.) She then painted tiger stripes on the next pot and completed that with a tiger grin. "Tiger's attack birds so the birds will be scared of this feeder", Chloe explained to me.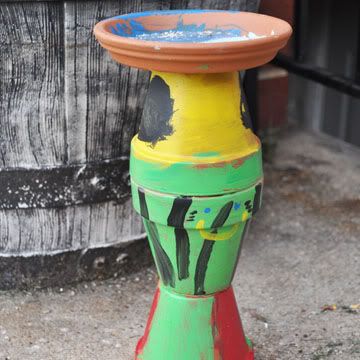 Unfortunately, her plan failed and little house sparrows visit her feeder whenever there is seed in it.
After the feeders we decided to paint bird houses.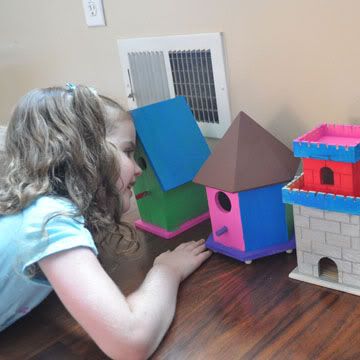 Now I just need to figure out how to hang these on my fence so they are stable enough. We plan on constructing some nesting boxes this fall/winter to place around the yard. Hopefully next year we will entice some birds to nest in our yard and raise their babies so we can see them.
Every so often, after weeding the garden or filling the bird feeders, I will let the hose run down the back walk. This sure captures the bird's fancy. They fly to our yard by the dozens to jump around in our trickling "brook". I caught a Common Grackle sunning himself after a bath on our back stoop. He hopped up the steps...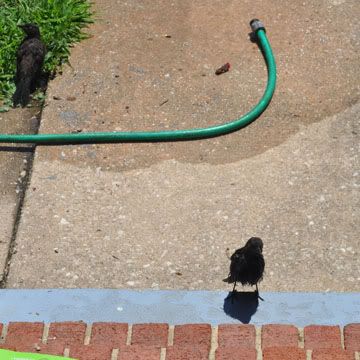 ...and ruffled his feathers and sat there in the warm sunshine.
Of course, this sort of behavior outside arouses the kitties curiosity inside. They don't quite know what to make of all these bird noises.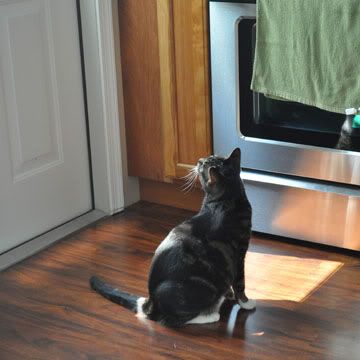 What on earth is out there? Did you hear that noise? I know it's something to pounce on. I can feel it!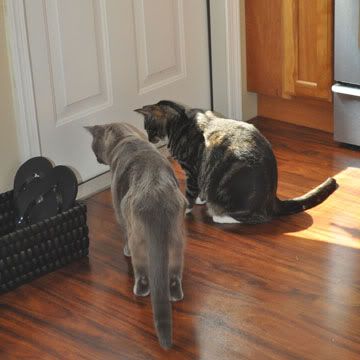 Birds we've seen in our yard so far:
- Common Grackle (which we do NOT like so we stopped feeding black oiled sunflower seeds for a time to get rid of them.)
- Cowbird (we feel much the same about cowbirds as we do the common grackles)
- House Sparrow
- Mockingbird
- House Finch
- Mourning Dove
- Robin (we love to watch the Robin's antics as she hops around the grass, picking up worms in her beak. It is amazing to watch how quickly she sucks that work down her throat)
- Pigeon (for some reason I LOVE these pigeons. Don't ask me why. They just make me smile)
-Northern Cardinal
And now I must be off to get ready for a birthday party with Chloe. Have a fabulous afternoon. Spend a minute and watch a bird. They can be quite fascinating as they feed their babies or slurp up worms. You may even become a "bird watcher" yourself.