While laying down the yesterday, trying to catch a quick catnap, Chloe popped onto the bed and promptly asked, "Will you play with me, Mommy?" I asked what she wanted to play and she responded, "Ummmmmm...Family."
She grabbed Lotso, Little Lamb and Eeyore and announced that Lotso was Daddy, Eeyore was me and Little Lamb was none other than herself. I played Eeyore and Chloe played both Lotso and Little Lamb. Our first round of "play" involved me (Eeyore) baking cupcakes with Chloe (Little Lamb). Daddy (Lotso) came home right as we were pouring the batter into the muffin tins. When Little Lamb asked if he would like to help us, Lotso said, "No!" quite emphatically and hastily removed himself to the living room at the bottom corner of the bed. We finished baking the cupcakes and boy were they delicious. Of course, Lotso joined us to eat the cupcakes.
Our next game involved the entire family playing Candyland together. Chloe informed me that I must switch roles and play Lotso (Daddy) but I needed to lower my voice to sound deep.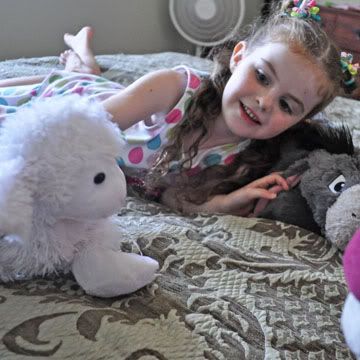 We moved imaginary game pieces around an imaginary game board. I was quite impressed with how many times in a row the players would draw the same cards as the previous player. I began wondering if maybe Eeyore was not placing hers at the bottom of the pile as instructed.
We ended the game celebrating Little Lamb's amazing victory (in just 3 turns, no less) by hoisting her up on Lotso's shoulders for a ride around the bed.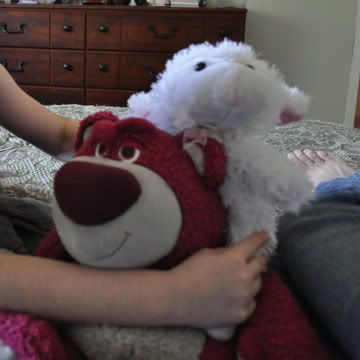 Childhood passes by so quickly. I am so entirely blessed that I have moments like this to share with my daughter. I could have slept. I could have gotten my 20 minute catnap. But I chose, instead, to enter fairyland for a few minutes of delightful play with a darling girl who will grow up before I even blink. And really. Who doesn't love a frolic through peppermints and gumdrops with Eeyore?