Chloe's favorite stuffed animal for quite some time now has been a little, white, stuffed lamb. Her fluffy fur and floppy body make her the perfect companion for squeezing during slumber or wiping tears from eyes during a moment of sadness.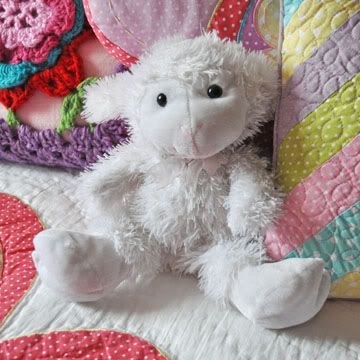 In one of those precious moments that appear unannounced, Chloe and I sat cuddled together this morning talking about when Jesus will return to earth. She mentioned that he will come down to take us to heaven. I discussed with her that one of two options will happen. Either we will die and go to heaven, or we will be here when Jesus comes down out of the sky. You should have seen her eyes light up at the mention of Jesus coming down in the sky. She thinks it would be better to stand outside to see him coming because it might be difficult to see him from inside our window. Oh how precious was this conversation with my daughter this morning. I loved watching the joy in her eyes as we chatted.
Her eyes started filling up with tears and her words became choked.
"But little lamb won't be able to come to heaven with us," came her garbled words.
"No. Your right. She won't be able to come with us," I quietly replied.
"Because you said that we can't take anything with us when we go."
"Yes, your right. We can't take anything with us when we go to heaven."
The Holy Spirit prompted me to mention Jesus as the Lamb of the world. I did so and the joy returned to Chloe's eyes. Jesus is a Lamb? Yes, not quite like her little lamb, but yes. I then explained to her that when we get to heaven, we will be with Jesus for all of eternity. Sometimes, I need to leave to cook dinner or prepare for her schoolwork or return books to the library. But when we get to heaven, Jesus will cuddle her for 20 years if she so desires. He is her lamb and she will have his undivided attention for all of eternity.
These moments amaze me.
They take my breath away.
I cherish them.
I want to remember them forever.
Precious moments when I get to share Jesus love with my little girl. This is what motherhood is all about. It's not about the cupcakes, or the math sums, or the painted rocks, or the bike rides in the park. It's about sharing the Love of our Savior with our children. Nothing, and I do mean
nothing
is more important than that.
Thank you Jesus for this treasured moment. Thank you for your love!
I kissed Chloe on the nose and said, "Jesus
WILL
come back. He promised."
(Chloe is quite excited about meeting Jesus in the air. She has waited her entire life to fly. You could say it's her lifelong dream. And if Jesus returns in her lifetime, her dream to fly will come true.)