Once upon a time (this past Easter), after much discussion and mild debating, James and I agreed to enhance our home atmosphere with hermit crabs. Such a fascinating little creature to study. We purchased an aquarium, substrate, shells, bathing pool, lava rock, climbing twigs, thermometers, heaters along with three little Hermies.
Unfortunately, being pet store hermit crabs, one promptly died within a week. RIP dear Sleepy. The other two lived for a couple of months. Searchy and Willie.
We engaged the help of a few friends to care for our beloved creatures while we vacationed with Mickey, Minnie and gang. Upon arriving home we found that Willie had vanished and a day or so later, Searchy too disappeared entirely. My only conclusion was that Searchy ate Willie and then buried himself to die. But I failed to smell that dead hermit crab smell. (Think seafood restaurant on a beach here...yea...gross.) Anyways, no such smell.
After 2 months with no hermies, Chloe began begging for a new kitten. (In all actuality, she's been begging since Pattycakes passed away in March, but James adamantly said "NO!" so I gave up asking. Chloe on the other hand persisted.) She poured on the charm and tears and downright pleading this past month though. I felt terrible that she lost her hermit crabs and I hadn't replaced them. I figured if I replaced the crabs she would lay off the kitten requests.
We hiked to the pet store and purchased 3 more hermies. One, immediately upon being set on the substrate, ran to the corner and buried himself. We've yet to see him again. His name is Nilly. I believe he was desperate for a molt.
Three days after I inserted the new hermies into the tank, guess who popped up for a midnight snack rocking new skin? Yup. Searchy! So, now we have four hermies in our tank when my intention had been three. Three hermies is a good number. Four? A bit larger. But then I got to thinking...I wonder if Willie is down there molting too. Maybe Searchy
didn't
eat him. That would make a grand total of FIVE hermit crabs. Oh me, oh my.
Oh me
, OH MY! What have I done?
So, let me introduce to you Searchy.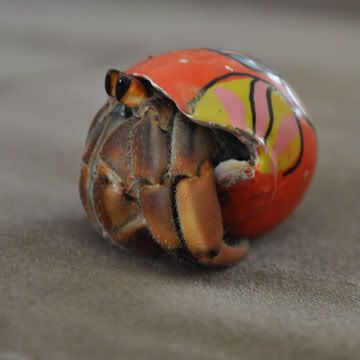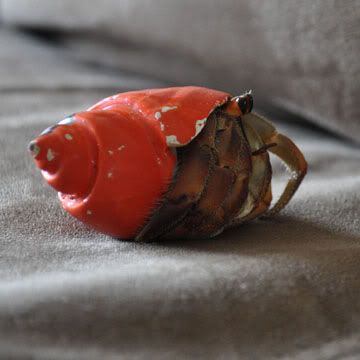 Searchy comes out to greet me when I pick up his shell. He loves grated carrots. He also plays with me on the couch, coming up close to my face to study me and then backing away. He will feel my arms with his "feelers" (sorry, don't know the technical term for them) as he scouts around for a good climbing location.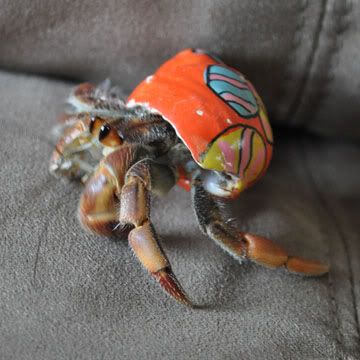 Chloe named her three new hermies Willie, Nilly and Silly. I told her Willie needed to be Willie 2 since we already owned a Willie. And now to think that we might own two Willies at the same time. Wow! Confusing.
Willie 2 tends towards shyness. It takes him quite a bit longer to come out of his shell when you pick him up. We wait a good bit for his little eyes to peep out.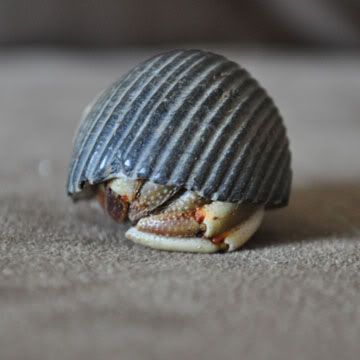 I am trying to play with the Hermies every day to get them used to humans. We are planning on studying them for school soon and so I thought it might be good them get them out in our hands to play with. Willie 2 actually did a great job in Chloe's hands. He walked back and forth across them for a good bit before hiding in his shell. I think the shutter click of the camera grates on his nerves after a while though.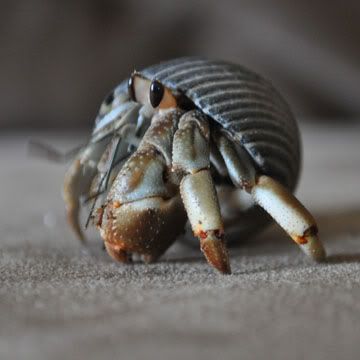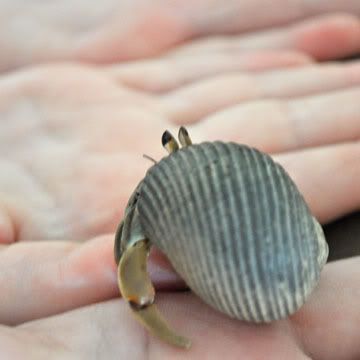 Even after adding three new hermit crabs to our tank, Chloe still insisted that she needed a new kitten. Daddy promised her a fish. So, when he arrives home, we will be adding a new fish to our menagerie. Just a goldfish in a bowl. Or maybe a beta behind our kitchen sink. Nothing fancy. Just a fish in a bowl. With an Ariel figurine and some fish flakes.
And I have another surprise for you in another post on another day. Exciting news but it will have to wait. This post is about Hermit Crabs. Have a delightful day everyone.