We did it again. Sunday afternoon I pulled out our altered book and crafting supplies and we worked on a couple of pages together. Chloe expressed complete joy during this weeks project. She keeps asking if we can do it everyday. I love this kind of enthusiasm.
First up, we glued down the pieces from a page we designed last week. The glitter on our first page took all day and night to dry so we had to wait until this week to adhere the next grouping.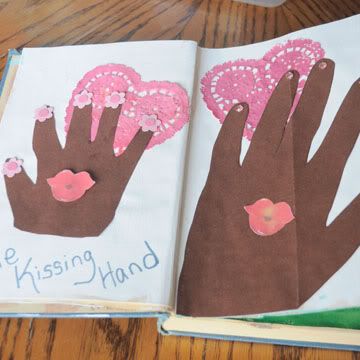 One of our favorite books to read together is
The Kissing Hand
by Audrey Penn. We often kiss each other's palm at bedtime or other time of brief separation to remind each other of our love. Such a sweet story and my daughter has firmly attached herself to it and our kissing hand ritual.
So what better way to immortalize the memories than to create a kissing hand page with our own hands?
I printed off the lips clip art from the computer to attach to each hand. Chloe added a single flower die cut to each finger while I opted for a pink diamond rhinestone. We painted two paper doilies with pink acrylic paint and added those behind each hand.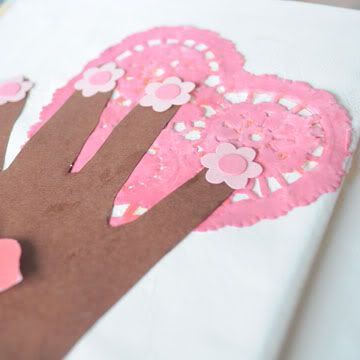 Next up are the pages we created from scratch this past Sunday afternoon. I volunteered the idea of painted butterflies and scattering them across the page with grass at the bottom.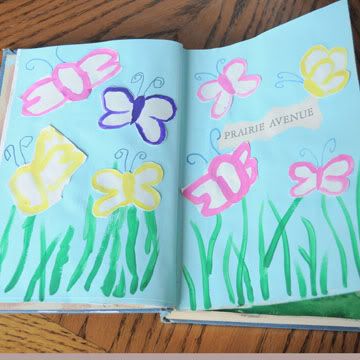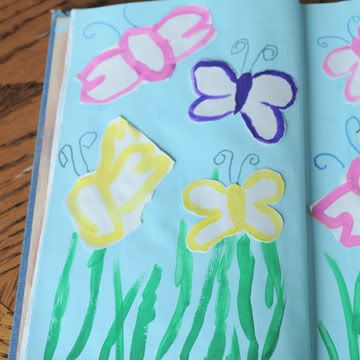 Chloe would have liked a pink background on this page, but I suggested the blue background to act as sky. She obliged after I pleaded a couple of times and mentioned that it would look "more authentic" and "prairie-like".
We smeared blue acrylic paint across the page for the background. We painted green watercolor for the grass. The butterflies were painted on drawing paper with watercolors and then cut out and glued onto this page. We hand drew the antennae.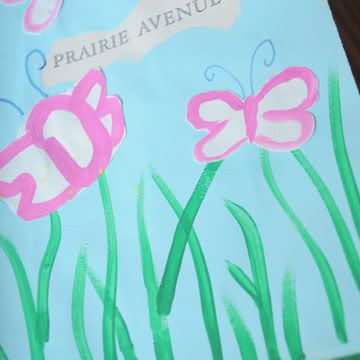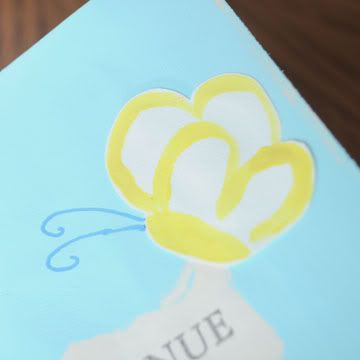 Okay. I just have to say...this next page is our favorite! By this time we established a good rhythm working side by side. We bounced ideas off each other. We giggled. We gazed studiously. We thoroughly enjoyed creating this page.
We've been studying our backyard birds lately. I put out a few bird feeders and we watch to see what birds come to visit our yard. A local specialty bird store offered us a poster with pictures of some common birds we may see. I already own a whole book. So when Chloe asked where we could find pictures of birds to put on our page, I whipped out this poster and we cut out our favorites.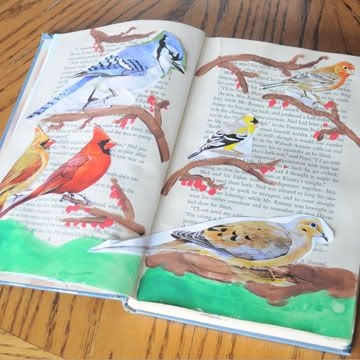 Ahhhh...but the page needed something after we glued down all the birds. We thought maybe it would be eye-catching to leave the words on the pages instead of painting over them. But it needed something. Ah-ha! Branches. Oh! And berries! I painted the branches in watercolor and Chloe came along behind me adding red berries for the birds to snack on. PERFECT!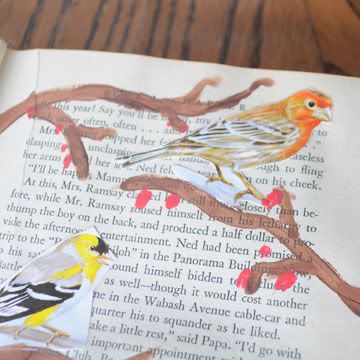 And don't forget the grass. We needed grass and a log for our dear little dove. We do have a sweet little dove who visits our yard every day. She arrives alone and pecks at the dropped seeds from the feeders. I love my little dove. So, yes. She needs a place to rest on our page.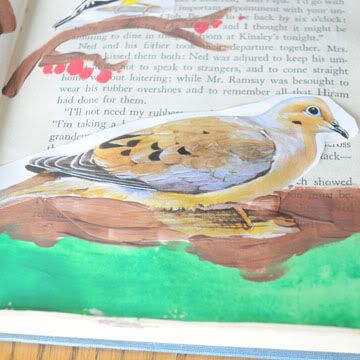 Now it is going to take every ounce of inner strength I have to resist the pleas coming from a certain little one, begging me to work on this project every day. I really want it to be our special Sunday project though. Let's see how long I will hold out.
And now we are off to prepare for a Grand Adventure. Have a splendidly amusing day!