Hip-hip-Hooray! James is home! I don't know if I happened to mention that he had left earlier this summer on this blog or not. Tried to keep it a bit low key this go round. But yes. James has been gone most of our summer. He returned home yesterday. Hooray!
We started a tradition. (I know...*eye roll*...
another
tradition in our household. Like we
NEED
another tradition. Hmmph!) But when James returns home from a deployment, we enjoy taking Chloe to a certain bear building venue. Yep. You guessed it. Build-A-Bear.
This time, Chloe informed us that she needed a boy dog "bear" to marry her girl cat "bear". She's been looking forward to this excursion since before he left town...that is, up until the moment James promised her a new kitty. Suddenly a stuffed dog lowered itself on the "wants" list pretty quickly. But, she did not forget the promise and so as soon James was buckled into the mini-van next to Chloe in the backseat, we drove to the Build-A-Bear palace.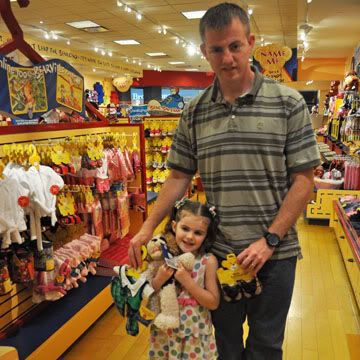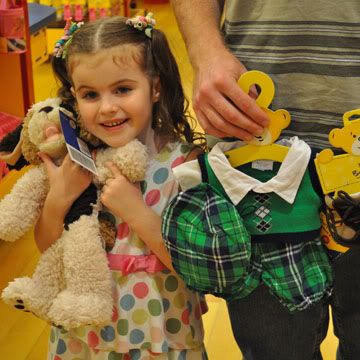 It's funny. It has been 1 1/2 years since we've been to Build-A-Bear, but Chloe knew where everything was and the steps needed to build Fluffy, her dog "bear". She chose a soft body for Fluffy and stepped on the peddle herself to fill him up.
It is serious business stuffing a bear.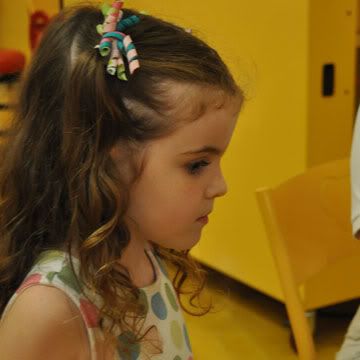 I can't help but wonder what Chloe's wish for her bear was. She looked so adorable making her wish with Fluffy's heart in her hands. But I just can't ask her. She would tell me in a heartbeat. And we all know that if you tell your secret wish, it won't come true. I wonder, though, if it has anything to do with Daddy never leaving again.
Time to wash Fluffy.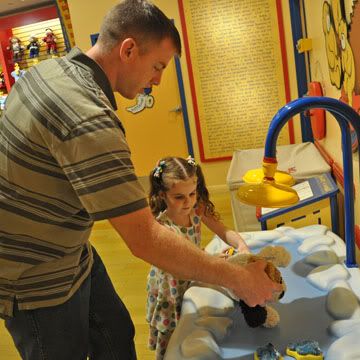 And then we printed a birth certificate for Fluffy.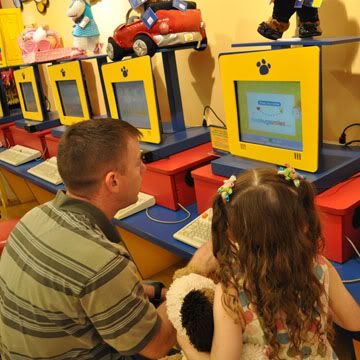 Upon arriving home in Chloe's bedroom, Cinzy (the cat "bear") and Fluffy met for the first time. After saying hello to each other, Fluffy cut quickly to the chase by asking, "Will you marry me?"
James and I were able to talk them into a courtship after Cinzy said, "yes" since we felt they truly didn't know each other that well yet. When James asked Fluffy if he would like to meet the other kitties in our house, he replied, "No! I don't like cats!"
Huh.
"What are you doing marrying one then?" I queried.
"Oh. I only like this cat. Just this cat. No other cats." He replied.
I just have to say. I enjoy having James home. We have so much fun as a family. We laugh and play and enjoy being in each others presence. Welcome home James! I love you very much.