I would like to introduce you to Snow, the sweetest little kitty.
James took Chloe and I out this morning on a kitty hunt, as he promised Chloe while he was away. What I figured would take all day and many cat rescue shelters, took all of a drive to Petsmart and 10 minutes with this sweet kitty. Immediately upon being set on the floor at the pet store, Snow (at that time named Messy Hessy) commenced with rubbing all of our legs, hands and even my purse. Chloe held out her hand and Snow rubbed against her like she was her long lost best friend. In that instant, the bond between kitty and girl was forever sealed.
"Please!!!!" Chloe begged. "Please! I want THIS kitty. This is the kitty I want. I love this kitty. Please can I have her?"
She didn't need to beg. James and I could clearly see that this gentle, sweet, loving kitty would be the perfect addition to our family. She loves all of us equally and can't be petted quite enough. But she also loves to play. She chases her toy mice across the floor and carries them around in her mouth as she shakes them to death. (poor, dear, toy mice)
Less than an hour later, Snow was ours.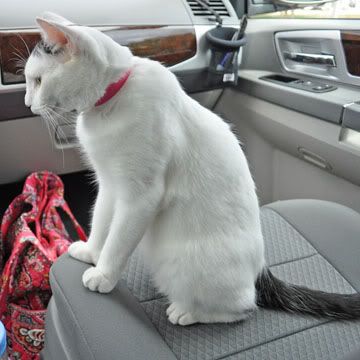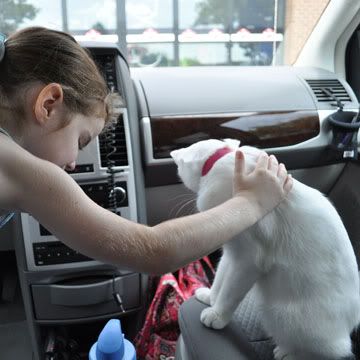 And when I say "sweet kitty" I really do mean sweet! The one and only time her eyes widened was on her journey in the cat carrier from the store to the van. The entire time in the store and the entire van ride home, her eyes stayed naturally in a contented manner. And I have yet to hear a single peep from her. Not a squeak. Not a mew. Nothing. She is perfectly happy to have chosen our family as her people and is showing us just how affectionate and playful she can be.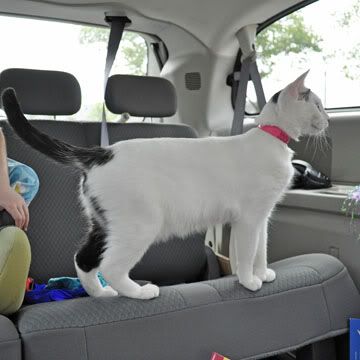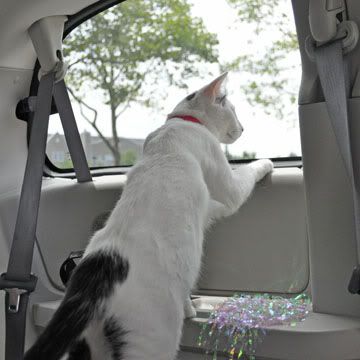 And now I must be off. Twillerbee is a little confused and upset by the curiously dreadful noises emitting from under Chloe's closed bedroom door. Something is in there that should not be, of this she is quite certain. While Snow's eyes have yet to widen in horror or fear at anything since we adopted her, Twillerbee's have remained saucers ever since she realized something spooky was shut behind that door about 3 hours ago. I must go assure her that she loves me and that she will not be eaten by a black and white monster.