James hung the moon. Okay. So not literally. But he might as well have. He hung some closet doors for me AND he laid laminate flooring in my entryway. Major improvement. Here are the "befores".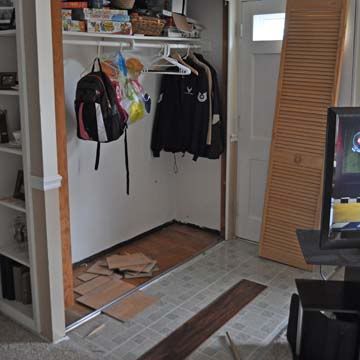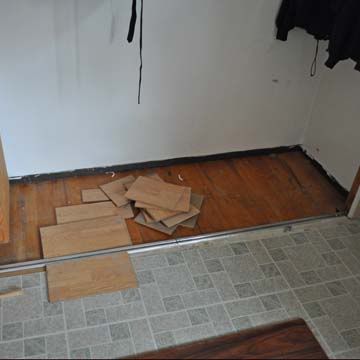 Note how terrible that floor looks. Inside the closet is the original hardwood floor. Choke. Gasp. Agggghhh! Sigh. Yes, underneath the carpet is hardwood flooring. Isn't that sad? Little did we know this fact until
after
we purchased the carpet
before
we moved into the house. And since we didn't actually see the floor, we don't really know the condition of it and how much work it would take to make it presentable. So, we just live with the knowledge that its down there. Its enough for us.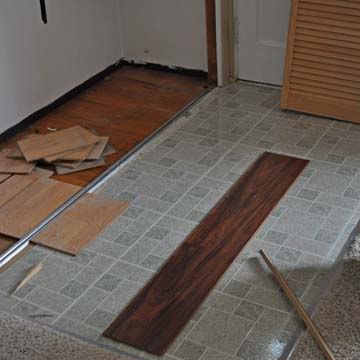 There is 1/4" subflooring underneath that "peel-and-stick" tile. Yes, someone put plywood subflooring on top of hardwood floors. Really makes me wonder about the condition of our hardwood. Anyways, about the time our new kitchen was going in, the doors on our entryway closet broke. I've put up with a broken closet door for 6 months. Talk about annoying.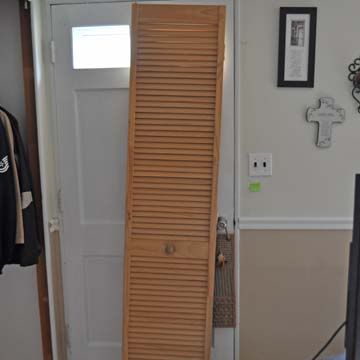 So there it goes. Bye-bye! My main job for the day was painting the new closet doors. Every time I turned around my painter's canvas was twisted up in a pile instead of nice and flat like I left it. Hmmmmm....how does something like that happen?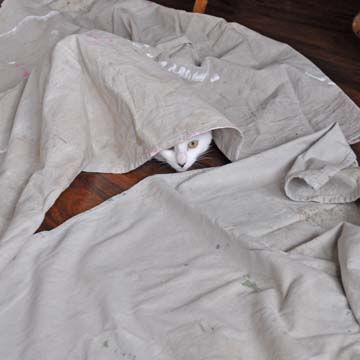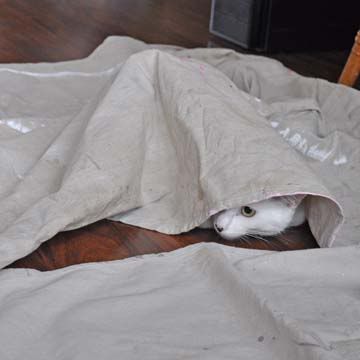 Yup. Found the culprit. Leave it to a kitten to play with
everything
. She got a little antsy when Chloe went outside to help daddy though. She waited at the window for her, watching her little girl.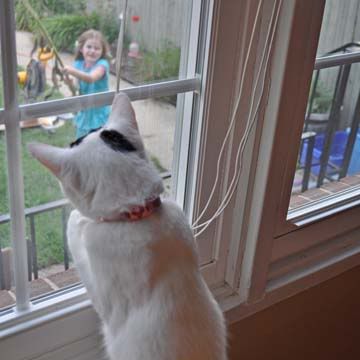 And by the end of the day, the entryway was finished. Isn't it beautiful?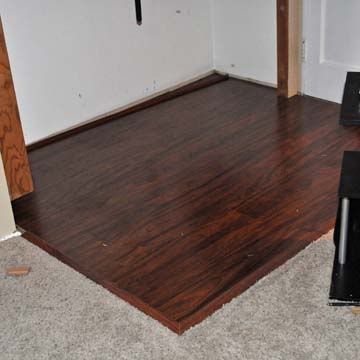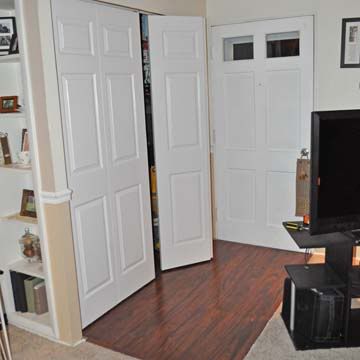 Its always the little things that you don't notice that make the biggest difference. I love the whiteness of those doors. They change the entire look of the living room. I love how quietly and smoothly they open. I never noticed how noisy and ragged the old doors were. They were hard to open. These just glide along with absolutely no effort.
Thank you James.