Every year I sew Chloe a special dress for her birthday. This year I picked a pattern from my box and asked Chloe if she would like it. Normally I allow her to pick the pattern but I wanted something different this year.
I took her to the fabric store and told her she could pick one fabric that was her absolute favorite but preferably not pink. I then picked the two coordinating fabrics to use with it. Here is what we came up with.
Chloe picked out the blue floral fabric. I chose the blue paisley and the polka dot to coordinate. Chloe, of course, approved my final decision with whoops of satisfaction.
I sat down this morning to cut out the dress. Someone came to help me.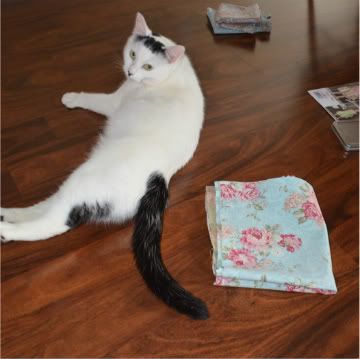 Snow is Chloe's kitty and she knows it. She also somehow knows when I am working on anything that belongs to Chloe and she needs to mark it with her scent. She would not leave me in peace to cut out this dress this morning. She rubbed her face over the entire surface of the fabric. Even while I was cutting the fabric, which proved to be somewhat of a nuisance.
After repeated instances of calling her name, "Snow. Snow! Snoooooow... SNOW!" I finally asked Chloe to entice her onto the couch for a cuddle session so I could finish cutting the dress. It is done and ready to be sewn...just as soon as I finish sewing 13 Jedi Knight Robes.