A few years ago I almost burned my house down.
I felt the need to begin a new tradition in our home. The tradition of advent. Lighting candles every Sunday throughout the Christmas season to remind us of the reason Jesus came to earth and keep us looking for his return.
Well, ahem...er...one Sunday I might have left the candles burning when we left for church. A thought flitted through my brain and I quietly whispered to James during the sermon to ask if he blew out the candle. Nope.
So, we arrived home to a hole burned in the center of our table and a smoke filled house.
Needless to say, I have been banned from "celebrating advent" since that time.
I asked James this year if perhaps he thought I might be mature enough to handle lighting candles. The answer was yes, as long as my candles were pillars that could not be knocked over without some considerable force. AND I needed to make sure we blew them out EVERYTIME.
So that's what we did. I found an advent devotion book that we used each night beginning December 1. We would light the appropriate number of candles for that night and read the devotions. Each night had a symbol to correspond with the devotion that I traced onto paper and then backed with felt. I added a sticky-backed velcro to each symbol and then let Chloe choose where to put them on the "tree" (which I cut out of green felt and machine sewed to the white background).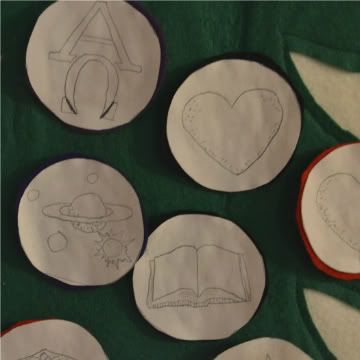 I cannot tell you how much of a blessing this tradition was to my family this year. We experienced one of our busiest years ever and spending time each evening of the Christmas season as a family, focusing on Jesus Christ, really blessed us and kept our hearts right where they needed to be.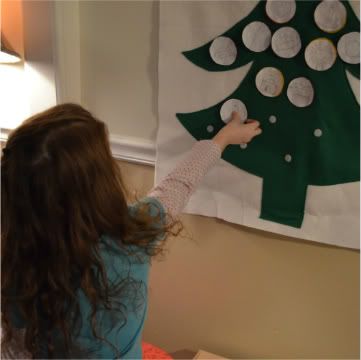 Of course, you all know me. I always take things a step (or two) too far. I had to add just
one more thing
to our nightly routine. I wrapped 24 Christmas story books (YES!
Twenty Four!
I didn't realize I had that many.) for Chloe to unwrap each night. Now she has read these stories a billion times, but somehow the unwrapping of a book each evening remained thrilling. It was fun just to see which book it would be and remember reading the stories last year.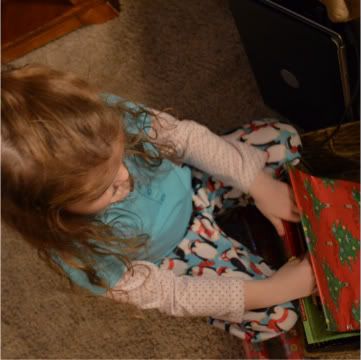 This is certainly one tradition we will continue again next Christmas.