I laid the bolt of brown, cotton fabric onto the cutting table and the clerk asked, "How much?"
"24 yards, please," I promptly replied.
"24?" came the immediate response. I am certain she was just checking to make sure she heard me correctly.
"Yes ma'am. 24 yards."
She looked at the bolt of fabric, turned it over and looked at it again, a puzzled look on her face. Before proceeding to cut the fabric she just had to ask (I knew she would feel compelled to ask the obvious question hanging in the air),
"What are you making?"
"14 Jedi Knight robes," I answered.
So, she cut 24 yards of brown fabric and I set to work this afternoon cutting out Jedi Knight robes. Sadly, 24 yards was not enough for 14. I only managed to fit 10. (I budgeted for 2 yards per child when I actually needed 3. I will be heading back to buy more if all 14 children RSVP affirmative.)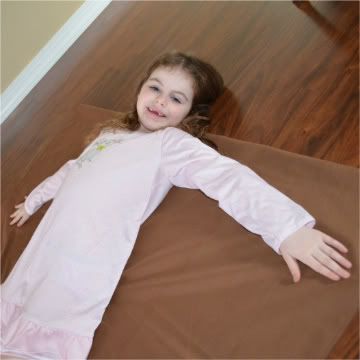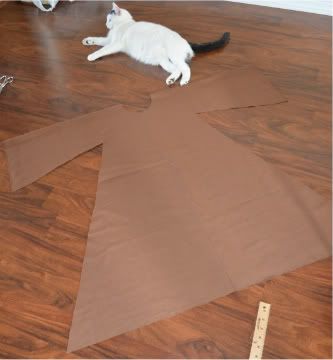 I sewed up my sample one to try on Chloe. Wow! I can't help but chuckle at the absolute cuteness of it. Can you just picture 14 of these little padwans running through my living room? This is going to be such a fun party!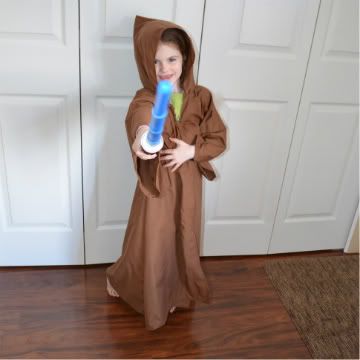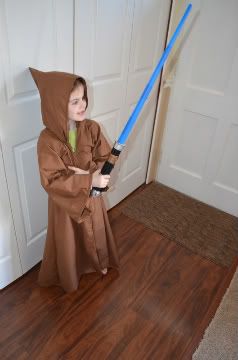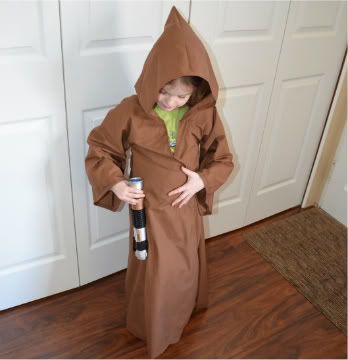 I need to get some rope to tie around the waist. Other than that, the first robe is finished. Only 13 more to go. Wooo Hooo!