While visiting (interviewing) with our adoption agency director about 4 weeks ago, I asked somewhere around 1,298 questions. Okay. Maybe not that many, but I am sure the number was abundantly lavish. I like to ask questions. I enjoy learning. How can I learn if I don't ask the questions?
So, anyways, after question #972 (or thereabouts) our sweet director stood up and reached for a book from her bookshelf. She handed me said book and said it was mine to keep for forever. (You can imagine my delight at scoring such a wonderful resource.)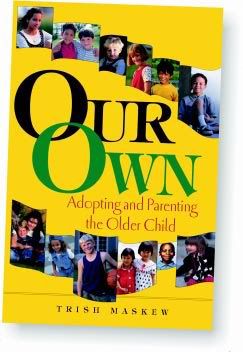 The same day our director contributed this wonderful resource book to my personal library, our "paperwork lady" (not to be confused with the sweet and generous director) handed us about 3,000 papers to fill out. Okay. Not quite literally, although the pile on my coffee table might argue that point. (I think it's obvious who my favorite person in that office is right about now.)
Well, part of that stack of papers/forms for us to work through included a 5-6 page checklist of behaviors or illnesses or developmental delays we would be willing to or having the skills to parent.
My goodness gracious but that list freaked me out.
Whew! Thank goodness the kind director gave me the aforementioned book. Had I not read it in a 3 day timespan (literally), I don't think I could have finished the dreaded checklist. Some of the items on that list flat out scared me to death! (and that's putting it mildly.)
After reading
Our Own by Trish Maskew
, I felt 90% more confident about answering those questions. She wrote about various behaviors and issues that arise from adopting older children out of the United States foster care system. I will now be able to recognize those things and understand that "they are normal for these children." Not only did she describe these issues/behaviors, but she gave practical ways to deal with them. Did you read that? Practical was to deal with them! What a lifesaver this book will be further down the road.
My fear is abating. Once I realized the "why" behind some of these common behaviors and the "how" to deal with it and help the children overcome these issues and past hurts, my fear subsided and I thought, "I can do this".
Now I am reading
"Brothers and Sisters in Adoption"
by Arleta James. While I know that I have the ability to parent a lot of these issues, the question now comes into play of whether that would be appropriate for Chloe to be exposed to at such a young age.
This gives me quite a bit to think and pray about. We will be praying for wisdom and guidance with the faith that God has the children picked out for us who need to be in our home. We are trusting in Him to guide and direct us to those children.
I am thankful I have this book as a resource in my personal library though. It will be the first place I turn to in one of those "What on earth?" moments I am sure I will have.