A week or two before Christmas, James and I took Chloe to New York City for something huge. Something incredibly special. Something...well...words cannot describe what this means to my daughter. She bought her first American Girl doll.
Yes.
Chloe bought her own American Girl doll.
Okay. So, maybe not ALL of it. She saved up $50 of her own money and James and I chipped in the other $55. We figured that if a 6 year old girl can save $50 while recieving no allowance, we could afford to help her out a bit towards her goal.
Well, for Chloe's birthday this year, I sewed up some clothes for the doll. (Those AMG clothes are so darn expensive!) I also sewed some for Christmas, but that will have to wait for another post another day. (I am so completely behind...this is sad.)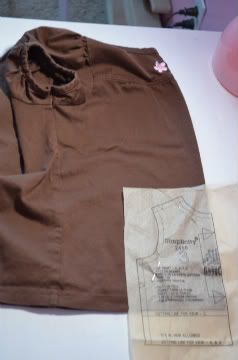 I purchased the book
All Dolled Up
in December to help expand our AMG wardrobe. In this book she suggests buying two shirts or leggings when purchasing clothes for a little girl. Then you can use the second item to sew an identical shirt for the doll. How clever? I've always wondered how people could match the knits found in the fabric stores so closely with the ready-made clothing for girls. Now I know the secret. Wait for a steal of a deal and
buy two!
I found a brown shirt in Chloe's wardrobe that she has outgrown and decided to use it for my first attempt at a matching doll shirt.
What a neat idea!
I used the hems already sewn for me from the shirt as my hems in the doll shirt. I cut off the shirt sleeves and just used the edging already there. It saved me so much time and was so easy.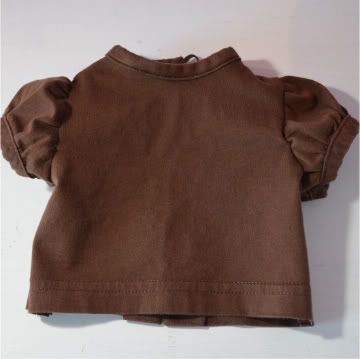 Now every little girl needs a matching birthday dress for her doll, right? So, as a surprise for Chloe, I sewed up a similar dress for Rose (her AMG doll).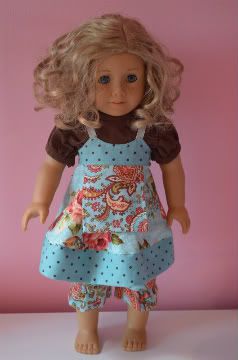 But then I couldn't just stop at one outfit. This pattern was so easy I decided to whip up another one. I used
Simplicity 2171
for the girl's knot dress and
Simplicity 2458
for the doll clothes.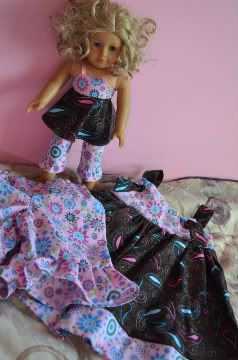 I think it is so incredibly sweet when a little girl matches her doll. Could childhood be any sweeter than that?