After a few easier to read books, I decided to attempt another classic. I picked
Charlotte Bronte's The Professor
. I loved reading
Jane Eyre
last year and I figured I would enjoy this book equally.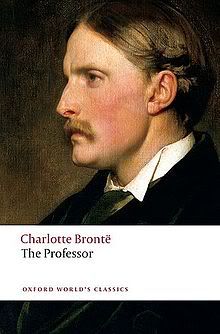 I was wrong. It took me a good while to get into this book. I struggled with relating to William Crimsworth. I suppose this is due, in part, to the fact that he was a man and I am a female. I wanted to relate. I wanted to love this book. But I couldn't. I wonder if part of the reason is that this was Charlotte Bronte's first novel. Many publishers rejected it although it was eventually published posthumously. Could it be there was a reason for this? I wonder.
I did begin to enjoy things once Crimsworth began settling into his life as a professor at a Belgium boarding school for boys. I likened it a bit to
Anne of Windy Poplars
and I suppose that is why I began to enjoy the book at this point. I had something to relate it to.
I read this book on my Kindle and I am so thankful I did. I have learned that I can quickly move my cursor to a word on a page and immediately the definition of that word pops up on the bottom of the screen. What a wonderful feature! I utilized this many times and it really aided my understanding of the story.
There were parts of this book that I did, indeed love. My favorite quote...
A ruffled mind makes a restless pillow.
Don't you just love that? I do.
I appreciated another quote which I thought might come in useful sometime when we adopt children from the foster care system.
"Human beings - human children especially - seldom deny themselves the pleasure of exercising a power which they are conscious of possessing, even though that power consist only in a capacity to make others wretched; a pupil whose sensations are duller than those of his instructor, while his nerves are tougher and his bodily strength perhaps greater, has an immense advantage over that instructor, and he will generally use it relentlessly, because the very young, very healthy, very thoughtless, know neither how to sympathize nor how to spare."
Hmmm...food for thought.
Another quote that hit a little closer to home was...
"Once convinced that my friends' disposition is incompatible with my own, once assured that he is indelibly stained with certain defects obnoxious to my principles, and I dissolve the connection."
I do this. I do it all the time. But I wonder if it's a good thing... I think perhaps it is not. But, then again, how can I associate with those whose principles and morals are so opposed to my own? I honestly don't know. This has given me much to ponder. I like books that cause me to ponder.
So, all in all, I am glad I read this book.