Part of my reading goal this year is to include a few classics into my repertoire. I never read very many classics growing up and I am trying to expand my knowledge. I picked
Sea Wolf by Jack London
because I remember reading Call of the Wild on a whim as a teenager.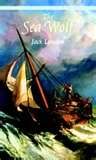 This was nothing like what I remembered about Call of the Wild. I thought to myself a couple of times while reading Sea Wolf that I might need to revisit Call of the Wild. Maybe my memory is not up to par.
Once I got over the fact that this was not a "girly" book, I enjoyed myself. As I read about the Sea Wolf and his complex and opposing views on life and its meaning, I found myself wishing someone would read this book along with me. Not just anyone. James, to be more precise. I wanted to discuss so many things with him, just for the sake of discussion. I know it would be a very lively and diverting discussion.
I wondered as I read, how I would act and what I would say to someone such as the Sea Wolf. Would I even know how to stand up for my beliefs? Would I just walk away? Reading this book brought up a lot of thought provoking questions like that for me.
But then the book ended as all books should end. The wonderful thing about this book was that I didn't not know how it would end. Very few books (or movies) can totally surprise me. And it wasn't that this was a "surprise" per se. Just that I just didn't know. I hoped, but I didn't know. That not knowing felt so exciting and riveting. I felt myself breathing out "Ahhh, good" when I finally switched off my Kindle after reading the last word. Whew!
What endeared this book to my heart was not actually in the book, however. I find it fascinating when various components of a person's life converge in a single moment. Last spring I sat down and spent some time putting together a list of folk songs Chloe and I would learn during her first grade year. One of those songs happened to be an Irish sea shanty called
The Fish of the Sea
. Every morning for the past two weeks we have sung this sea shanty, while every evening I read a couple chapters of Sea Wolf. I could envision the sailors I was coming to know in the book, swinging from the ropes or swabbing the deck while singing this shanty. Perfect timing, if you ask me.
Now I can't read classics back to back. I need to give my brain a break. So, the next couple of books I picked up were easy reads. More on those in other posts.