A great party is all in the details. I love attention to details when it comes to parties. I spend hours scouring the internet for pictures of decor to include at my parties. I then spend hours putting everything together. Some may question why I begin Chloe's birthday party plans the night after Christmas, but when you think about all these details I have to get right...well...you begin to understand.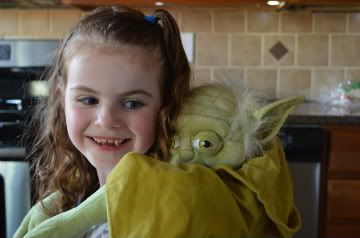 Yes. That's Yoda.
My best friend Karen found me this
awesome Yoda backpack
which will be perfect for our Jedi training exercises. The box arrived this past week and Yoda is now training Chloe night and day. He even sleeps beside Chloe to protect her from Vader during the night. He refuses to leave her side. I am glad. I worry that Vader will show up during our Padawan training next weekend.
Here are some things we've been working on this week.
Goody bags. We used the same white paint pen from
the invitations
to create a galaxy of stars on each black gift bag. I printed off a star wars logo using
the powers of the force
a really cool Jedi Knight font that we glued onto the front of each bag.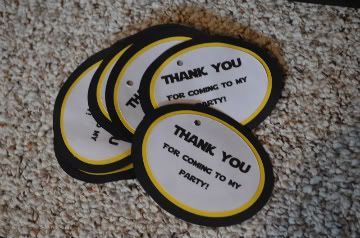 We cut these out to attach to the goodie bags once they are completely filled.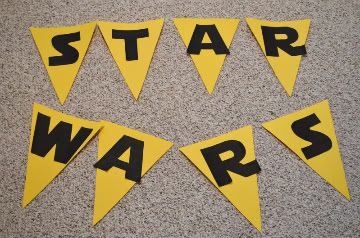 So, I love this Jedi Knight Font. And the best part is that it was free! Perfect for a Star Wars Party. I printed off jumbo sized letters and cut them out to glue onto my little flags for a banner.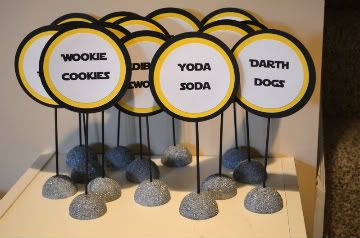 Now these little things took a bit of brain power to come up with. I wanted to name our party food these fantastic "Star Wars" themes, but how to get them attached to the plates. At first I thought I could find some of those little wire photograph holders but I could not seem to locate any in the couple of stores I tried. I decided that they would probably be too expensive if I ever did find any. I need 14. So, I made my own.
I cut Styrofoam balls in half and painted them gray. I was surprised that the paint stayed on the Styrofoam but it did. Hooray! I painted some wooden bamboo skewers black, taped the labels to them and then stuck them into the Styrofoam. So easy and yet, like I said before, it's all in the details.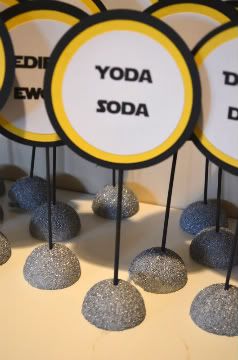 We are getting quite excited around here. The party is a week and a day away. Hooray!