We did it! We planned and excuted the perfect Star Wars party for my now 7 year old daughter. She picked an R2-D2 cake for her special day. (I kinda informed her that Yoda would have been a bit too difficult for me to create as he was her first choice.)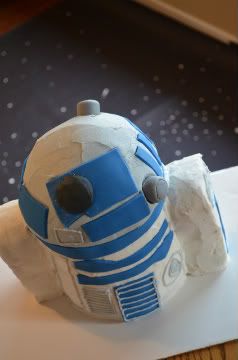 Doesn't he look delicious?
I started with 6" round cake pans. I baked 3 different flavors of cake. Vanilla Chiffon (which Chloe asked for again this year. We used it in her
shark cake
last year), German's Chocolate and Whipped Cream. All three recipes came from my
Good Housekeeping Great Baking
cookbook. (Which I completely adore, by the way. Best general baking cookbook I've found.)
Now just try and google images of R2-D2. Yea. Crazy, right? Which image do I use to design my own droid? They are all so different. In the end, I figured I couldn't go wrong. It didn't matter how many details I un-intenionally left off, when a child looks at this cake they will automatically know that it is R2-D2.
I stacked up the four 6" layers on top of each other for the body of R2-D2 with a layer of white buttercream icing in between each layer. I used half of the ball pan to create the dome of R2-D2. (his head, perhaps? Does he even have a head???) I used a bread loaf pan to create the "arms". I froze the cake loaf in the freezer overnight and then carved the shape I wanted. (MUCH easier to do with frozen cake.) I sliced that shape in half to make two matching arms. I attached them with buttercream icing and toothpicks. The blue details were added with colored fondant.
For his holographic projector, I simply rolled a gray fondant log and then used a toothpick to dig out an edge. I piped in a few additional details in light gray to complete the look.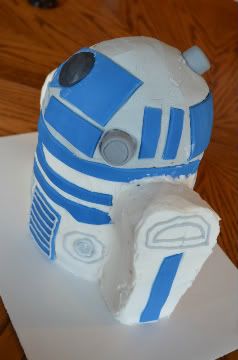 And there you have it. R2-D2. The best little astromech droid in the galaxy. Don't you want one?