I had so much fun creating foods with a Star Wars theme. I scoured the internet for ideas of other's creations and incorporated what I found in my own spread.
Yum! The main colors for our party were yellow and black, inspired by the original Star Wars Theme lettering in the movies. I used black tablecloths, black serving dishes splashed with silver plates and utensils.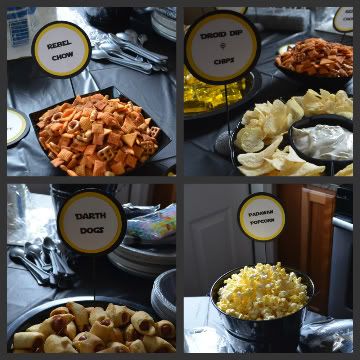 We devoured Padawan Popcorn, Darth Dogs, Pizza the Hutt, Rebel Chow, Jedi Jello, Droid Dip and Chips, Wookie Cookies and Death Star Cake Pops. This was my third attempt at making cake pops and they actually turned out decent. I can't seem to reach the perfection of
Bakerella
status, but I don't think mine look too desperately shabby.

My drink signs got mixed up during the pre-party set up, but I still love my Yoda Soda and Jaba Juice.
I decided on a Candy Buffet this year so I could enlarge on the Star Wars themed food. I couldn't settle for just one table.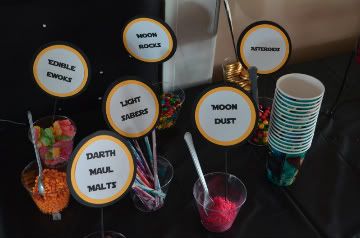 The children
dumped
sprinkled
these galatic treats to their homemade ice cream. Moon Dust (pop rocks), Moon Rocks (nerds), Asteroids (mini M&M's), Bounty Hunter Bounty (chocolate coins), Darth Maul Malts (whoppers), Edible Ewoks (sour patch kids) and Lightsabers (pixie sticks). I think this party rivals our
Candyland party
in the amount of candy provided to young children. Unfortunaty, I didn't think to include toothbrushes in the goodie bags this year. Oh well.
What a blast!