I have always loved seeing bird nests used in spring decor. And while I have never decorated my home much for holidays, this year I longed for some nests. And once I got started, I couldn't stop myself. I filled every bare shelf with nests and eggs.
I found a tiny nest at Hobby Lobby to put inside this lidded, glass vase. I added some moss and a few teensy tiny robin eggs.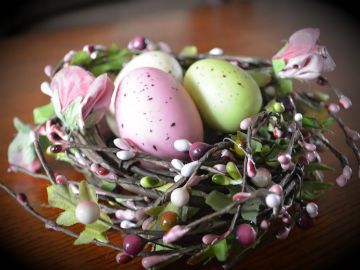 I just could not resist make a pink nest. Okay. So I know they don't actually exist in nature (I hope/wish I am wrong on this point) but this girly-girl
must
have some pink in her spring decor. For the nest, I just used a pink, floral garland I bought at Michaels. I left it in the wreath form it came home from the store in and tucked a couple of "rounds" down into the middle of the "nest" to hold the eggs. (I know. I am totally botching up that explanation and it makes no sense whatsoever, but I am sure you can see what I did in the picture.)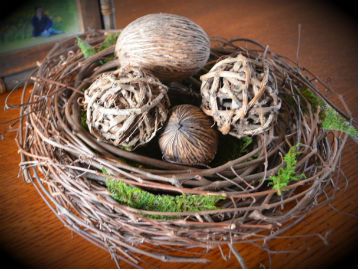 For a more woodland whimsical nest I used a twig wreath. After cutting the twine that held it in the circular shape, I finagled it into somewhat of a nest-like shape and added some natural "balls" I've had lying around. I added bits of moss into this wreath as well.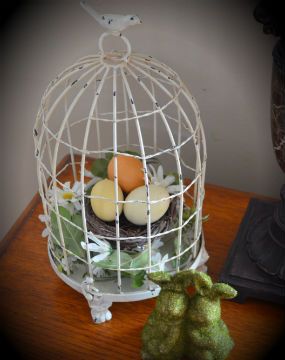 I brought out the centerpiece I used for
Chloe's Bird Themed tea party
we threw last summer to add to my spring decor. I placed my mossy bunnies next to it for Easter.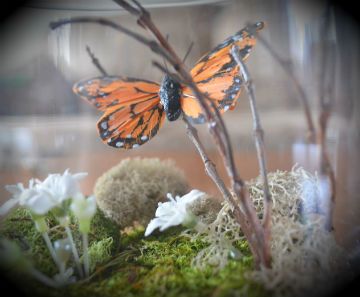 I saw this project sheet at Hobby Lobby while I was perusing the nest section looking for tiny eggs. It wasn't a nest but I needed to make it anyway. Maybe I can use it in the future if I can ever talk Chloe into her Woodland Fairy Garden Tea Birthday Party. So, these are my spring decorations. I am pleased to say that I had them out and on the shelves in plenty of time for Easter. I think they were finished at least two weeks prior to the holiday. (This is some kind of record for me.) Unfortunately, I cannot say the same for Chloe's Easter dress. I am still working on the details today. We shall just call it a "Post-Easter" dress.