I love cake. Maybe you already knew this. But I just thought I should say it again because this is an extremely important fact to make note of.
I love cake!
I wish people wouldn't give me such a hard time over my consumption of cake or I would eat it more. Really, I could bake a cake for every holiday. Oh. Today is Friday? I have a cake for that.
Yes, I love cake. I dream of being a cake designer someday. Pipe dreams. Mere pipe dreams. I am so far away from achieving this dream that I might as well join the Olympics this summer. (And anyone who knows me knows how ludicrous that would be, since I am basically a couch potato for all intents and purposes)
Since we celebrated Earth Day yesterday, in the rain, I decided to whip up an earth cake.
Chloe mixed up a french vanilla cake mix. We divided the batter in half and stirred in blue and green icing colors. I baked the cake in half of my sport ball cake pan.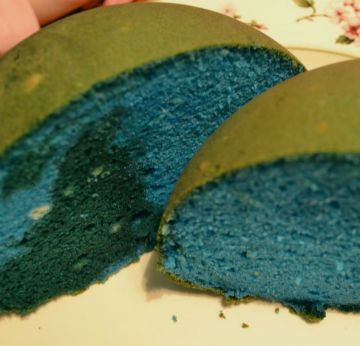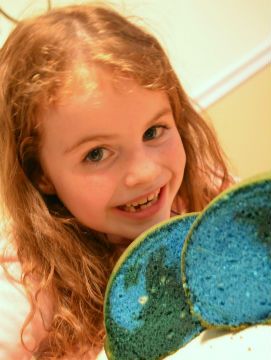 Now, in theory, this should have worked. But I found that my blue batter did not make it to the crust of my cake. Only the green. So, in order to see the vibrant colors of our "earth", I had to cut the cake in half. Hmmmm...I will have to figure out what went wrong and how to fix it. Meanwhile, we ate the cake.