I love Easter! It's my favorite holiday. We celebrate a risen Savior.
Saturday we meet another family at our local doughnut store. Our family visits this bakery every Saturday morning for our doughnuts and coffee. It's a tradition. This particular Saturday a bunny visited the store as well.
Chloe thoroughly enjoyed decorating her doughnut after the baker added
PINK
icing. (Of course...could there be any other
appropriate
color choice? I think not!)
After our delicious, pink breakfast, we headed over to Home Depot for the celebrations there. An Easter egg hunt ensued.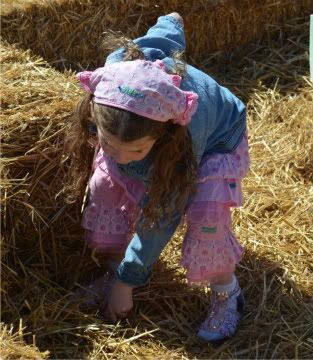 After dancing around a hay-filled square and gathering about 15 eggs each, the kind hostess informed us that they could "find" two eggs each. (The eggs were thrown into the straw from the sidelines whenever children entered the area. Chloe was not properly challenged, in my opinion. She seemed quite pleased, however, so I shall not complain to management.)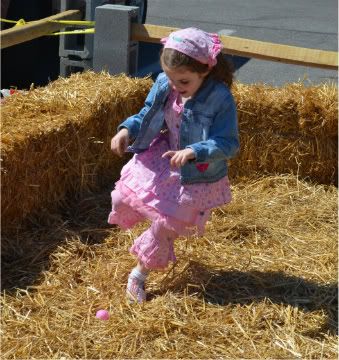 James stood in line for face painting so Chloe could get her
face
hand painted. (I think she decided the hand would be more visible to herself or something...)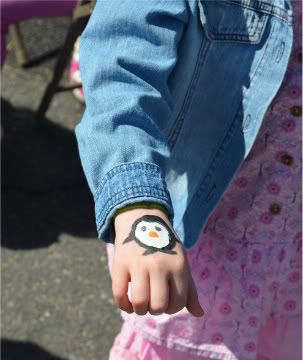 Once the penguin was in place, Chloe and her Daddy built a bird feeder together.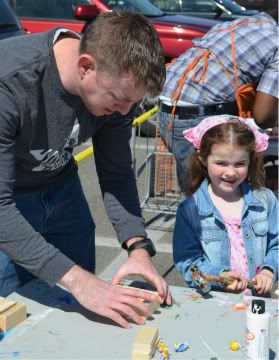 After an impromptu shopping trip to pick up an Easter dress for Chloe (James worried I would stress out trying to sew an entire Easter dress in one afternoon...I hesitated before agreeing he might possibly be right), we arrived home in time to glitter our eggs.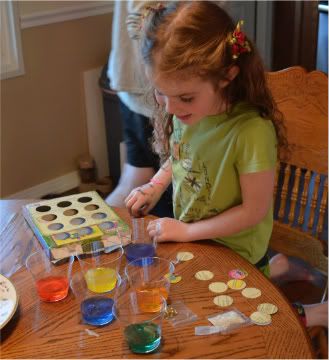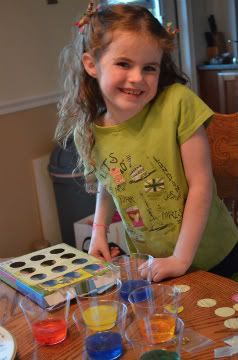 Six eggs took a bath in regular dye. Five took a bath in
GLITTER
filled dye. (How fancy!) One lone, little egg was left for James to create his own artwork on. He poured every color onto the egg over and over and over...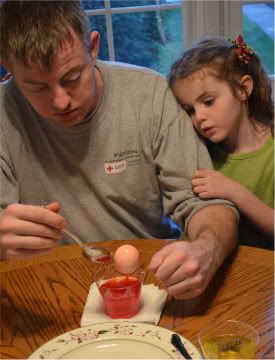 ...and over and over and over To the amazement of Chloe, James produced a sort of tie-dyed egg.
While James appears completely bored in these pictures, it is my belief that he actually enjoyed himself immensely. This tradition brings up all sorts of childhood memories for him and he was pleased to share those stories with Chloe. I was pleased to hear them as well, since James doesn't have the best memory and I rarely get to hear about his childhood as a consequence.
I held the eggs for Chloe as she attached sequins to them with glue.
What a lovely, celebration we had preparing for Easter!