I purchased the book
Sewing Clothes Kids Love
a little over a year ago and have been dreaming of magnificent wardrobes ever since. The Manhattan dress ranked high on my list of things I wanted to sew. But alas, I just never found the time to gather everything necessary to create this luxurious dress. Until the week before Easter. I finally made it to the fabric store and Chloe picked out the cotton she wanted for her "Easter Dress". But James requested that I not spend my entire Saturday afternoon prior to Easter sewing the dress. He wisely advised me to purchase a dress that afternoon so I would be able to get a decent amount of sleep before Easter morning. As much as it saddened me, I finally agreed that maybe having a store bought dress for Easter (yet again) would not be the worst motherhood moment ever.
So, I took my time sewing this dress. Two weeks actually. I spent hours embellishing and trimming it. I acknowledge now that I most likely would not have had the time to embellish it quite to this extent had I stayed up all night Easter Eve.
The most important feature of this dress (at least in my 7 year old daughter's opinion) is the twirlability. This dress has massive amounts of twirl sewn in. How delightful!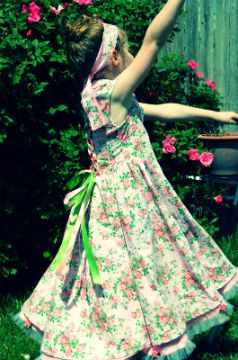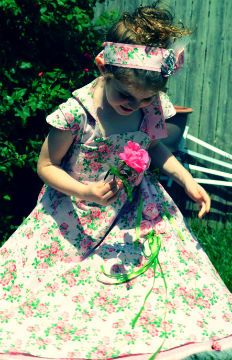 My favorite feature is the ribbon roses sewn onto the dress. They were so incredibly simple and yet add such stunning elegance to the dress, it takes my breath away.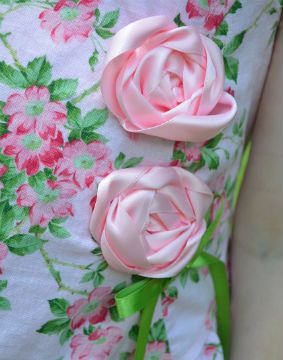 I also love the sewn in loops for the ribbon ties down the back.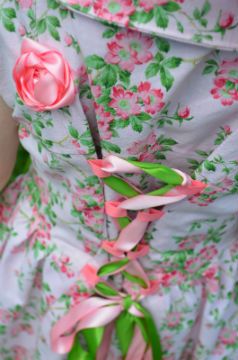 I added a ruffle of pink tulle around the trim of the skirt lining and sewed a length of grossgrain ribbon over the seam with dainty pre-made ribbon roses interspersed along the edge.
And then came the headband. I browsed the internet for the perfect adornment to compliment this dress. I found
this simple headband tutorial
that would utilize my leftover fabric from the dress and thought it was perfect.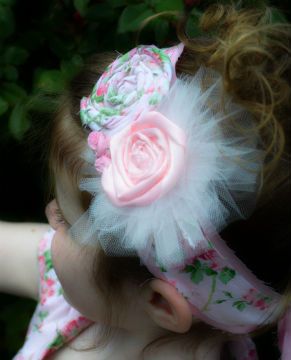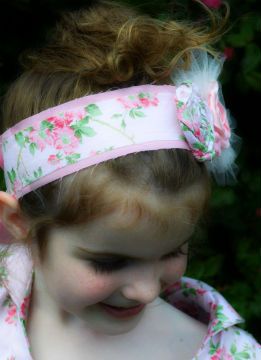 Chloe says that she feels like she is going to a ball when she wears this dress.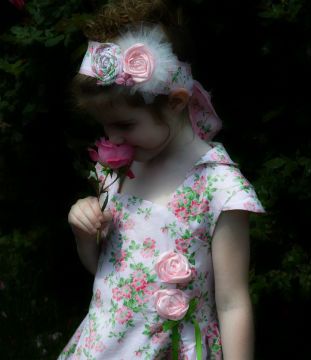 And here is a rose for you. Thank you for visiting today.